The Truth Trap (Paperback)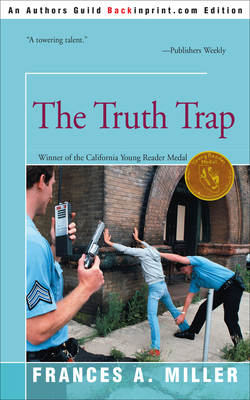 $11.99

Ships from warehouse to store in 3-6 business days
(NOTE: This book cannot be returned and may not be eligible for discounts.)
Description
---
Winner of the California Young Reader Medal in the high school category and an ALA Best Book of the Year.

Following the death of his parents in a car accident, fifteen-year-old Matt McKendrick runs away from his hometown with his small, deaf sister, Katie, to prevent her from being placed in an institution. Reaching Los Angeles exhausted and hungry, they take refuge in an abandoned theater. When Matt returns to the theater after an unsuccessful day hunting for work, he finds Katie gone and the police waiting to accuse him of murder. Alone in a city of strangers, Matt sets out on a desperate quest—fighting suspicion, hatred, and his own unbearable remorse and self-doubt—to prove to himself and to the Homicide detective who despises him that he is who he says he is.
 
The Truth Trap is the first book in the series.
About the Author
---
Frances A. Miller has been both a teacher and a librarian. Currently at home in Chestertown, Maryland, she has lived all over the U.S. and spent 6 years in Australia. She is a long time member of Society of Children's Book Writers and Illustrators and The Authors Guild, and author of four highly successful YA novels about Matt McKendrick and the Schuyler family. The Truth Trap won the California Young Reader Medal (high school category), and was an ALA Best Book for Young Adults. Aren't You the One Who . . . ?, called "taut and touching" by the Chicago Tribune, was a top choice in English Journal's annual Young Adult poll and on the Iowa Teen Award list. Losers and Winners was described by Publishers Weekly as a "powerfully written story of uncommon humanity." Cutting Loose, a Tor Book Club choice, was reviewed by a YA librarian as "Real teenagers wrestling with real issues. Highly recommended." A ghost story "Something's Different" appeared in Donald Gallo's Short Circuits collection. Miller has also written Watch Out, World!, a fantasy for 9–11 year-olds; fiction and biographies for older students reading at the third grade level; and numerous articles on reading, writing, and books for national publications. From 1984 to 1987, Miller sponsored the "Aussie Books for Kids" exhibit which traveled to school—public and university—libraries all over the U.S., and in 1987 she organized "Happy Birthday, Australia!", a gift to Australia's children of 520 American children's books and hundreds of birthday cards to celebrate their country's bicentennial in 1988.
 
She still hears from readers who find her on the web at francesamiller.com.
 
Praise For…
---
"Powerfully constructed and moving." —School Library Journal
 
"Gripping first novel . . . A real page turner." —Contra Costa Times
 
"Evinces a towering talent." —Publishers Weekly
Free Media Mail shipping on U.S. orders over $75