The Natural History of the Bahamas: A Field Guide (Paperback)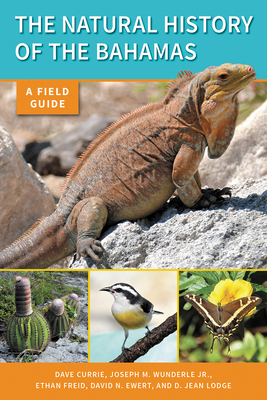 $34.95

Ships from warehouse to store in 3-6 business days
Description
---
Take this book with you on your next trip to the Bahamas or the Turks and Caicos Islands or keep it close to hand in your travel library. The Natural History of the Bahamas offers the most comprehensive coverage of the terrestrial and coastal flora and fauna on the islands of the Bahamas archipelago, as well as of the region's natural history and ecology. Readers will gain an appreciation for the importance of conserving the diverse lifeforms on these special Caribbean islands.
A detailed introduction to the history, geology, and climate of the islands.
Beautifully illustrated, with more than seven hundred color photographs showcasing the diverse plants, fungi, and animals found on the Bahamian Archipelago.
About the Author
---
Dr. Dave Currie, former Field Director of Kirtland's Warbler Research and Training Project, The Bahamas, and former adjunct Research Wildlife Biologist with International Institute of Tropical Forestry, USDA Forest Service. David N. Ewert is an Avian Conservation Scientist with American Bird Conservancy and Lecturer at the University of Michigan Biological Station. Joseph M. Wunderle, Jr., is the Wildlife Team Leader and a Research Wildlife Biologist with the International Institute of Tropical Forestry, USDA Forest Service, Puerto Rico. D. Jean Lodge is an Adjunct Faculty in the Departments of Plant Pathology, Odum School of Ecology and Plant Biology, University of Georgia (formerly a Research Botanist with the Center for Forest Mycology Research, Northern Research Station, USDA Forest Service). Ethan Freid is Chief Botanist at the Leon Levy Native Plant Preserve on Eleuthera.
Free Media Mail shipping on U.S. orders over $75
"Ships from warehouse" books to be shipped: order by Wednesday, 12/6
"Ships from warehouse" books for pickup: order by Tuesday, 12/12