FREE Media Mail shipping on eligible items! We are open for browsing by appointment from 10am-7pm M-S and 10am-6pm Sundays. Email books@quailridgebooks.com for a reservation. Phones may not be answered due to high volume of calls.
Things My Son Needs to Know about the World (Hardcover)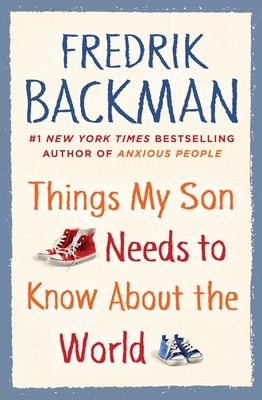 Description
---
The #1 New York Times bestselling author of A Man Called Ove shares an irresistible and moving collection of heartfelt, humorous essays about fatherhood, providing his newborn son with the perspective and tools he'll need to make his way in the world.

Things My Son Needs to Know About the World collects the personal dispatches from the front lines of one of the most daunting experiences any man can experience: fatherhood.

As he conveys his profound awe at experiencing all the "firsts" that fill him with wonder and catch him completely unprepared, Fredrik Backman doesn't shy away from revealing his own false steps and fatherly flaws, tackling issues both great and small, from masculinity and mid-life crises to practical jokes and poop.

In between the sleep-deprived lows and wonderful highs, Backman takes a step back to share the true story of falling in love with a woman who is his complete opposite, and learning to live a life that revolves around the people you care about unconditionally. Alternating between humorous side notes and longer essays offering his son advice as he grows up and ventures out into the world, Backman relays the big and small lessons in life, including:

-How to find the team you belong to
-Why airports explain everything about religion and war
-The reason starting a band is crucial to cultivating and keeping friendships
-How to beat Monkey Island 3
-Why, sometimes, a dad might hold onto his son's hand just a little too tight

This is an irresistible and insightful collection, perfect for new parents and fans of Backman's "unparalleled understanding of human nature" (Shelf Awareness). As he eloquently reminds us, "You can be whatever you want to be, but that's nowhere near as important as knowing that you can be exactly who you are."
About the Author
---
Fredrik Backman is the #1 New York Times bestselling author of A Man Called Ove, My Grandmother Asked Me to Tell You She's Sorry, Britt-Marie Was Here, Beartown, Us Against You, and two novellas, And Every Morning the Way Home Gets Longer and Longer and The Deal of a Lifetime, as well as one work of nonfiction, Things My Son Needs to Know About the World. His books are published in more than forty countries. His latest novel is Anxious People. He lives in Stockholm, Sweden, with his wife and two children. Connect with him on Twitter @BackmanLand or on Instagram @Backmansk.
Praise For…
---
"Delightful, thoughtful essays on fatherhood…Parents—especially fathers—will appreciate Backman's witty and touching lessons."
— Publishers Weekly

"Each chapter is filled with Backman's dry wit and brutal honesty, but behind all of the humor is real, heartfelt sentiment and poignant advice. This will make readers laugh out loud, but new fathers discovering the ups and downs of parenting will especially relate to this hilarious account of fatherhood."
— Booklist

"Splendidly entertaining…readers will find all the humor, profound insight and compassion that make his fiction so irresistible. One needn't be a father—or even a parent—to treasure this collection. As with all of his previous work, Backman artfully crafts his words to touch each person both individually and universally."
— Shelf Awareness