The Storm: A Novel (Hardcover)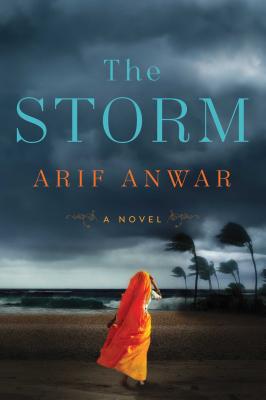 Staff Reviews
---
In The Storm, Arif Anwar does something that I love: He brings together several disparate characters in astonishing ways. The players are Honufa, an East Pakistani mother caught in a literal and figurative storm as she is separated from her husband and son; her friend, Rina, who has taken Honufa's son to a safe place; and a Bangladeshi man, Shahryar Choudhury, trying to find a job so he can stay in the US. Honufa's story begins in 1970, while Sharyar's takes place in the present day (2004). Anwar tells them in alternating chapters. I continue to believe that reading novels like this reinforces my compassion for those unlike me who suffer in ways I cannot imagine.
— Mamie
Description
---
"A remarkable debut, in which fiction vividly portrays specific events in history."—Booklist (starred review)

"This powerful and important debut is a story for our time." —Library Journal (starred review)

From an immensely talented new voice in international fiction, a sweeping tour de force that seamlessly interweaves five love stories that, together, chronicle sixty years of Bangladeshi history.

Shahryar, a recent PhD graduate and father of nine-year-old Anna, must leave the US when his visa expires. In their last remaining weeks together, we learn Shahryar's history, in a vil­lage on the Bay of Bengal, where a poor fisherman and his wife are preparing to face a storm of historic proportions. That story intersects with those of a Japanese pilot, a British doctor stationed in Burma during World War II, and a privileged couple in Calcutta who leaves everything behind to move to East Pakistan following the Partition of India. Inspired by the 1970 Bhola cyclone, in which half a million-people perished overnight, the structure of this riveting novel mimics the storm itself. Building to a series of revelatory and moving climaxes, it shows the many ways in which families love, betray, honor, and sacrifice for one another.

At once grounded in history and fantastically imaginative, The Storm explores the human­ity that connects us beyond the surface differences of race, religion, and nationality. It is an epic novel in the tradition of Khaled Hosseini's The Kite Runner and Rohinton Mistry's A Fine Balance, by a singularly gifted and perceptive new writer.
About the Author
---
Arif Anwar was born in Chittagong, Bangladesh, just miles from the Bay of Bengal. He has previously worked for BRAC, one of the world's largest nongovernmental organizations, on issues of poverty alleviation, and for UNICEF Myanmar on public health issues. Arif has a PhD in education from the University of Toronto. He lives in Toronto, Canada, with his wife Si (Sandra) Lian. The Storm is his first novel.
Praise For…
---
"Complex, elegantly-composed, and page-turning at once, The Storm is a novel both grand and intimate in its scope. Arif Anwar's ability to inhabit a variety of characters across countries and time is nothing short of astounding. I adored this book."—Armando Lucas Correa, author of The German Girl

"Arif Anwar's masterful storytelling crosses continents and generations, illuminating how personal choices can have sweeping repercussions. The Storm is an elegant, stunning novel that captured my imagination and my heart until the end."—Shilpi Somaya Gowda, #1 international bestselling author of Secret Daughter and The Golden Son

"This book is a marvel, combining the sweep of a saga with the precision of a page-turner. Arif Anwar moves us deftly through time and across borders, beautifully illustrating the strange intersections we call fate, and reminding us how the past shapes the present."—Rumaan Alam, author of Rich and Pretty and That Kind of Mother

"Arif Anwar's The Storm is a brilliantly textured tapestry exploring the natural and man-made disasters that define a human story. And like a true storm, it is by turns devastating, humbling and cathartic."—Nadia Hashimi, author of The Pearl That Broke Its Shell

"This riveting novel weaves the interlocking tales of compelling characters finding their way through turbulent times, crisscrossing nations and continents, finding redemption in the gift of love and the magical power of words. The Storm is lyrical, lovely and captivating."—Mary Janigan, author of Let the Eastern Bastards Freeze in the Dark

"Lovers whisper, immigration papers rustle, gunfire explodes as this novel sweeps backwards and forwards across continents and decades….The interconnected stories come alive with sensual detail….This is Bangladeshi history—all our history—as we enter a new world—our world—through the absorbing stories of The Storm."—Kim Echlin, author of Under the Visible Life

"In crystalline prose, Anwar tells stories that span continents and decades as his characters interconnect . . . . While deceit and cruelty occur, these stories are suffused with love and compassion that most often motivate action. A remarkable debut, in which fiction vividly portrays specific events in history."—Booklist (starred review)

"This powerful and important debut is a story for our time."— Library Journal (starred review)

"Anwar drills down to an almost microscopic viewpoint to explore Bangladesh's struggle for independence through intimate, interconnected stories that span 60 years . . . . The Storm ends up as a richly realized, instructive tale about what to do with people set adrift by major disturbances, and about filtering broad strokes of storm data to study individual people who follow some rules and break others to find security and do what they think is right."— Associated Press

"In his debut novel, Arif Anwar gathers stories in the manner that wind and waves build in a massive storm . . . . With the ethos of A Long Way Home (upon which the movie Lion is based) and the epic quality of The Kite Runner, The Storm provokes and inspires . . . . Laced with symbols and mysterious mementos—like a sash left by a Japanese soldier that is later discovered by a studious Hindu girl, and a fishing boat painted with eyes—chapters swell to suspenseful endings that dovetail with each other . . . . From visa troubles and Hindu-Muslim relations to child custody and starvation, Anwar tackles the gamut of modern challenges with style and care."— BookPage

"A welcome addition to the fledgling collection of post-colonial literature by Bangladeshi authors….Anwar takes it further, much further, by creating an impressive cast of characters with lives and fortunes that intersect in unexpected ways with Bangladesh's history. From Washington, D.C., to Calcutta to Chittagong and Burma, Anwar journeys through time to unfurl the full breath and strength of the storm that is the literal and figurative center of his ambitious debut novel….A panoramic, multigenerational saga set against the backdrop of Bangladesh's violent birth as an independent nation."— Shelf Awareness

"Anwar's excellent debut braids together brief moments of sacrifice and love in the lives of many characters across decades in South Asia and Washington D.C . . . . This first novel will touch and astound readers."— Publishers Weekly

"Arif Anwar's first novel, The Storm, is a fascinating, ambitious work, stretching across decades and countries and capturing troubled moments in each....Anwar has challenged himself by weaving together, in a definite narrative design, characters from these countries who come from very diverse backgrounds....Much of the charm and power of The Storm lies in negotiating this push and pull between the hero and the trickster, the magical and the mundane — and Anwar has handled it beautifully." —Chitra Divakaruni, New York Times Book Review