All the Light We Cannot See: A Novel (Paperback)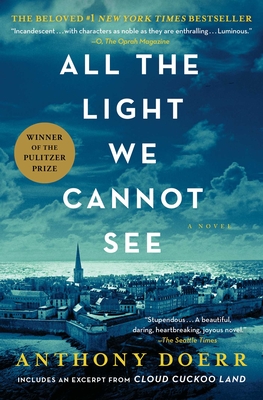 Staff Reviews
---
I'm adding my accolades to a book that so many of our staff have loved. Award-winning author Anthony Doerr's latest work is set during WWII. Werner, a young German orphan, is coerced into monitoring radio for the Hitler Youth. Marie-Laure, a blind Parisian girl, is forced to flee the city by the Nazi occupation. Carrying on her uncle's work, she broadcasts music to spread hope for her captive nation. Little does she know it will touch the heart of a German boy being held captive in his own way. Doerr's evocative, vivid writing style makes the trials of war jump off the page; Marie-Laure and Werner are like living, breathing people, and their inner strength will move you.
— Lisa
Doerr paints a full picture of the German-French relations through the eyes (and ears) of children. He uses beautiful phrases and words to describe the simplest things, from a seashell to a meager can of peaches. One of my favorite reads in a long time.
— Chelsea
As the Nazis relentlessly push for world domination, two young people try to comprehend it all as they go about a child's business of growing up:  A French girl, blind from early childhood; a German boy who succumbs to the moral sightlessness of the pure evil that is at work.  You cannot be indifferent to Doerr's characters. His vivid imagery will take your breath away. But the genius here is that woven throughout this compelling story is an inescapable truth: At every turn, each of us is called to make a decision about personal responsibility. This is an extraordinary book: so riveting, I couldn't put it down; so beautifully written, I didn't want it to end.   
— Samantha
 I don't think I've learned so much with such intense pleasure, while wishing a 530 page novel were twice as long. Covering a ten year period, from 1934 to 1944, Doerr weaves in and out of the lives of his two protagonists, bringing them ever closer together. Marie-Laure is a French girl blind since age 6, the cherished daughter of the locksmith at France's Museum of Natural History. Werner is a German orphan growing up among the sooty coal mines of Zollverein, a key supplier of the energy required to power the Third Reich. Astronomy, gemology, ornithology, natural history, trigonometry, joinery, and, especially, the art of radio transmission, are rendered beautifully and lovingly while at the same time the story's tension builds toward an inescapable, nail-biting climax. A masterpiece you won't want to miss.
— Sarah
I have to admit, I'm a sucker for world war two novels, but this has to be one of the most beautiful things I've ever read. There is so much raw emotion in these pages, lyrical prose and complexity. All the stories alone are so powerful, but when intertwined, they form a masterpiece that transcends time to show the true meaning of life-love. While you need to have a pack of tissues beside you at all times while you read this, it's absolutely worth it because it reminds you of all the light that's in the world.
— Christina P.
May 2014 Indie Next List
---
"The French girl cannot see, but she can hear, feel, and explore the world around her like a budding naturalist. The German boy has no parents, but he teaches himself how coils of copper can receive lessons of love and learning. It's World War II, however, and the potential of thousands of children will be unrealized or thwarted. Will a mythical gemstone save them or unite them? Gorgeously written, Doerr's epic tale brings alive the beauty of two souls, their quest for learning, the turbulent times they cannot control, and the rock that mysteriously guides their fate."
— Harriett Logan, Loganberry Books, Shaker Hts, OH
Description
---
*Winner of the Pulitzer Prize* A New York Times Book Review Top Ten Book* A National Book Award Finalist*

From Anthony Doerr, the highly acclaimed, multiple award-winning author of Cloud Cuckoo Land, the beautiful, stunningly ambitious instant New York Times bestseller about a blind French girl and a German boy whose paths collide in occupied France as both try to survive the devastation of World War II.

*Soon to be a Netflix limited series from the producers of Stranger Things*

Marie-Laure lives in Paris near the Museum of Natural History, where her father works. When she is twelve, the Nazis occupy Paris and father and daughter flee to the walled citadel of Saint-Malo, where Marie-Laure's reclusive great uncle lives in a tall house by the sea. With them they carry what might be the museum's most valuable and dangerous jewel.

In a mining town in Germany, Werner Pfennig, an orphan, grows up with his younger sister, enchanted by a crude radio they find that brings them news and stories from places they have never seen or imagined. Werner becomes an expert at building and fixing these crucial new instruments and is enlisted to use his talent to track down the resistance. Deftly interweaving the lives of Marie-Laure and Werner, Doerr illuminates the ways, against all odds, people try to be good to one another.

Doerr's "stunning sense of physical detail and gorgeous metaphors" (San Francisco Chronicle) are dazzling. Ten years in the writing, a National Book Award finalist, All the Light We Cannot See is a magnificent, deeply moving novel from a writer "whose sentences never fail to thrill" (Los Angeles Times).
About the Author
---
Anthony Doerr is the author of Cloud Cuckoo Land, which was a finalist for the National Book Award, and All the Light We Cannot See, winner of the Pulitzer Prize, the Carnegie Medal, the Alex Award, and a #1 New York Times bestseller. He is also the author of the story collections Memory Wall and The Shell Collector, the novel About Grace, and the memoir Four Seasons in Rome. He has won five O. Henry Prizes, the Rome Prize, the New York Public Library's Young Lions Award, the National Magazine Award for fiction, a Guggenheim Fellowship, and the Story Prize. Born and raised in Cleveland, Ohio, Doerr lives in Boise, Idaho, with his wife and two sons.
Praise For…
---
"Mesmerizing… Exquisite… The written equivalent of a Botticelli or a Michelangelo." –The Portland Oregonian

"Stunning… Uplifting… Not to be missed." –Entertainment Weekly

"Hauntingly beautiful." –The New York Times

"Each and every person in this finely spun assemblage is distinct and true." –USA Today

"Intertwines secret radio broadcasts, a cursed diamond, a soldier's deepest doubts into a richly compelling package… Irresistible." –People

"Gorgeous… Moves with the pace of a thriller." –San Francisco Chronicle

"Enthrallingly told, beautifully written." —Amanda Vaill, The Washington Post

"Dazzling . . . Startlingly fresh." —John Freeman, The Boston Globe

"Intricate . . . A meditation on fate, free will, and the way that, in wartime, small choices can have vast consequences." —The New Yorker

"Brims with scrupulous reverence for all forms of life. The invisible light of the title shines long after the last page." —Tricia Springstubb, The Cleveland Plain Dealer

"Anthony Doerr writes beautifully. . . . A tour de force." —Elizabeth Reid, Deseret News

"Anthony Doerr again takes language beyond mortal limits." —Elissa Schappell, Vanity Fair

"Perfectly captured . . . Doerr writes sentences that are clear-eyed, taut, sweetly lyrical." —Josh Cook, Minneapolis StarTribune

"A beautiful, expansive tale . . . Ambitious and majestic." —Steph Cha, Los Angeles Times

"Doerr is an exquisite stylist; his talents are on full display." —Alan Cheuse, NPR

"The craftsmanship of Doerr's book is rooted in his ability to inhabit the lives of Marie-Laure and Werner." —Steve Novak, Pittsburgh Post-Gazette

"Doerr deftly guides All the Light We Cannot See toward the day Werner's and Marie-Laure's lives intersect during the bombing of Saint-Malo in what may be his best work to date." —Yvonne Zipp, The Christian Science Monitor

"To open a book by Anthony Doerr is to open a door on humanity. . . . His sentences shimmer. . . . His paragraphs are luminous with bright, sparkling beauty." —Martha Anne Toll, Washington Independent Review of Books

"Endlessly bold and equally delicate . . . An intricate miracle of invention, narrative verve, and deep research lightly held, but above all a miracle of humanity . . . Anthony Doerr's novel celebrates—and also accomplishes—what only the finest art can: the power to create, reveal, and augment experience in all its horror and wonder, heartbreak and rapture." —Shelf Awareness

"Intricately structured . . . All the Light We Cannot See is a work of art and of preservation." —Jane Ciabattari, BBC

"Magnificent." —Carmen Callil, The Guardian (UK)

"The whole enthralls." —Good Housekeeping

"A revelation." —Michael Magras, Bookreporter.com

"Doerr conjures up a vibrating, crackling world. . . . Intricately, beautifully crafted." —Rebecca Kelley, Bustle.com

"There is so much in this book. It is difficult to convey the complexity, the detail, the beauty, and the brutality of this simple story." —Carole O'Brien, Aspen Daily News

"Beautifully written . . . Soulful and addictive." —Chris Stuckenschneider, The Missourian

"A novel to live in, learn from, and feel bereft over when the last page is turned, Doerr's magnificently drawn story seems at once spacious and tightly composed. . . . Doerr masterfully and knowledgeably re-creates the deprived civilian conditions of war-torn France and the strictly controlled lives of the military occupiers." —Booklist (starred review)

"Doerr captures the sights and sounds of wartime and focuses, refreshingly, on the innate goodness of his major characters." —Kirkus Reviews (starred review)

"If a book's success can be measured by its ability to move readers and the number of memorable characters it has, Story Prize–winner Doerr's novel triumphs on both counts. Along the way, he convinces readers that new stories can still be told about this well-trod period, and that war—despite its desperation, cruelty, and harrowing moral choices—cannot negate the pleasures of the world." —Publishers Weekly (starred review)

"This novel has the physical and emotional heft of a masterpiece. . . . It presents two characters so interesting and sympathetic that readers will keep turning the pages hoping for an impossibly happy ending. . . . Highly recommended for fans of Michael Ondaatje's The English Patient." —Evelyn Beck, Library Journal (starred review)