We are offering FREE media mail shipping on books. We are open from 10am-7pm Monday through Saturday and 10am-6pm Sunday. Phones may not be answered due to a high volume of calls.
The Vagabonds: The Story of Henry Ford and Thomas Edison's Ten-Year Road Trip (Paperback)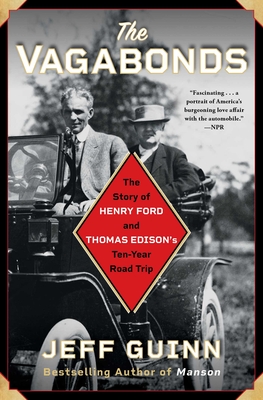 $18.00
Coming soon - PRE-ORDER NOW!
Staff Reviews
---
I love a road trip--here's the story of how it all began.
In the early days of motor cars Henry Ford and Thomas Edison began a friendship and shared a spirit of adventure that centered around cars, technology and publicity. Traveling in motorized caravans they were followed by newspaper coverage that detailed their stops and adventures.
Ford's cars, Firestone's tires, and Edison's batteries were popularized as roads improved, gas stations emerged and motels were established to serve a growing traveling public.
Their ramblings changed forever the way Americans travel. Thanks to them for this gift
— Anne
Description
---
A "fascinating slice of rarely considered American history" (Booklist)—the story of Henry Ford and Thomas Edison—whose annual summer sojourns introduced the road trip to our culture and made the automobile an essential part of modern life.

In 1914 Henry Ford and naturalist John Burroughs visited Thomas Edison in Florida and toured the Everglades. The following year Ford, Edison, and tire maker Harvey Firestone joined together on a summer camping trip and decided to call themselves the Vagabonds. They would continue their summer road trips until 1925, when they announced that their fame made it too difficult for them to carry on.

Although the Vagabonds traveled with an entourage of chefs, butlers, and others, this elite fraternity also had a serious purpose: to examine the conditions of America's roadways and improve the practicality of automobile travel. Cars were unreliable and the roads were even worse. But newspaper coverage of these trips was extensive, and as cars and roads improved, the summer trip by automobile soon became a desired element of American life.

The Vagabonds is "a portrait of America's burgeoning love affair with the automobile" (NPR) but it also sheds light on the important relationship between the older Edison and the younger Ford, who once worked for the famous inventor. The road trips made the automobile ubiquitous and magnified Ford's reputation, even as Edison's diminished. The automobile would transform the American landscape, the American economy, and the American way of life and Guinn brings this seminal moment in history to vivid life.
About the Author
---
Jeff Guinn is an award-winning former investigative journalist and the bestselling author of numerous books, including Go Down Together: The True Untold Story of Bonnie and Clyde; The Last Gunfight: The Real Story of the Shootout at the OK Corral—And How It Changed the West; Manson: The Life and Times of Charles Manson; and The Road to Jonestown: Jim Jones and Peoples Temple. Guinn lives in Fort Worth, Texas.
Praise For…
---
"A fascinating slice of rarely considered American history."
— Booklist

"Henry Ford and Thomas Edison, road-tripping buddies. . . . An entertaining story that mixes sharp portraits of their vivid personalities with details of their travels and a portrait of American society during those years."
— Kirkus Reviews

"A fascinating snapshot of some of the less-famous years of American history. . . .[And] a portrait of America's burgeoning love affair with the automobile."
— Camila Domonoske

"[Guinn] has a lot of fun documenting the double takes from unsuspecting souls who saw Ford and his friends on the road. . . .One of the pleasures of The Vagabonds is remembering a time when travelers – even those as wealthy as Firestone – did get lost, without the benefit of navigation systems to set them straight."
— Danny Heitman

"As with many good books, this one is fun, serving as a chronicle of the trips and the eccentricity of the men who made them memorable. With a remarkable level of insight and detail, Guinn also shows us how different America was in the halcyon years before World War I."
— Michael Granberry

"The glimpses of early automobile travel are fascinating. . . . The Vagabonds is an interesting glimpse into a slice of these inventors' lives not often seen."
— Nancy Gilson