Bullshit Jobs: A Theory (Paperback)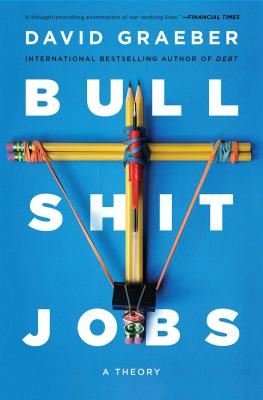 Staff Reviews
---
A compulsory talking point for any politician – left or right – is job creation, employment, and the well-being of the economy in relation to the two. But hardly anyone seems to consider whether the jobs themselves are meaningful or necessary, or even doing more harm than good.
The aptly titled Bullshit Jobs is about exactly that: meaningless jobs that even the people working them admit contribute nothing to society. A bullshit job, as defined by the late anthropologist David Graeber, typically involves being overpaid for doing an ultimately unnecessary and fruitless task (or variety of tasks). They usually find their home in bloated administrative departments, corporate law firms, PR, marketing, and many others.
This is an essential read for anyone even mildly interested in labor relations and the economy, and what can be done to improve them to work toward a more equitable and just society.  
— Alex
Description
---
From David Graeber, the bestselling author of The Dawn of Everything and Debt—"a master of opening up thought and stimulating debate" (Slate)—a powerful argument against the rise of meaningless, unfulfilling jobs…and their consequences.

Does your job make a meaningful contribution to the world? In the spring of 2013, David Graeber asked this question in a playful, provocative essay titled "On the Phenomenon of Bullshit Jobs." It went viral. After one million online views in seventeen different languages, people all over the world are still debating the answer.

There are hordes of people—HR consultants, communication coordinators, telemarketing researchers, corporate lawyers—whose jobs are useless, and, tragically, they know it. These people are caught in bullshit jobs.

Graeber explores one of society's most vexing and deeply felt concerns, indicting among other villains a particular strain of finance capitalism that betrays ideals shared by thinkers ranging from Keynes to Lincoln. "Clever and charismatic" (The New Yorker), Bullshit Jobs gives individuals, corporations, and societies permission to undergo a shift in values, placing creative and caring work at the center of our culture. This book is for everyone who wants to turn their vocation back into an avocation and "a thought-provoking examination of our working lives" (Financial Times).
About the Author
---
David Graeber (1961–2020) was a Professor of Anthropology at the London School of Economics. His bestselling books include The Dawn of Everything, cowritten with David Wengrow, and DEBT: The First 5,000 Years. He was a contributor to Harper's Magazine, The Guardian, and The Baffler.
Praise For…
---
"Clever and charismatic."—The New Yorker

"One of our most important and provocative thinkers..."—Cory Doctorow

"Graeber is an American anthropologist with a winning combination of talents: he's a startlingly original thinker...able to convey complicated ideas with wit and clarity."—The Telegraph (UK)

"A brilliant, deeply original political thinker…"—Rebecca Solnit

"A master of opening up thought and stimulating debate."—Slate

"Graeber wants us to unshackle ourselves from the limits imposed by bureaucracy, precisely so we can actually get down to openly and creatively arguing about our collective future."—NPR

"A thought-provoking examination of our working lives."—Financial Times

"Buoyed by a sense of recognition, the reader happily follows Graeber in his fun attempts to categorize bulls--- jobs into Goons, Flunkies, Box Tickers, Duct Tapers, and Taskmasters, which inevitably bleed together into Complex Multiform Bulls--- Jobs. It's funny, albeit painful, that we've gotten work so wrong and spend so much time at it."—Bloomberg.com

Praise for DEBT: The First 5000 Years

"Fresh...fascinating... Graeber's book is not just thought provoking, but also exceedingly timely."—Gillian Tett, The Financial Times

"The book is more readable and entertaining than I can indicate... It is a meditation on debt, tribute, gifts, religion and the false history of money. Graeber is a scholarly researcher, an activist and a public intellectual."—Peter Carey, The Observer

Praise for Utopia of Rules:

"Thought-provoking."—Boston Globe

"[A] fizzing, fabulous firecracker of a book… Our contemporary bureaucrats are revealed, in fact, as none other than you and me, forever administering and marketing ourselves."—The Literary Review

Praise for Utopia of Rules:

"Thought-provoking."—Boston Globe

"[A] fizzing, fabulous firecracker of a book… Our contemporary bureaucrats are revealed, in fact, as none other than you and me, forever administering and marketing ourselves."—The Literary Review