My Soul Looks Back: A Memoir (Paperback)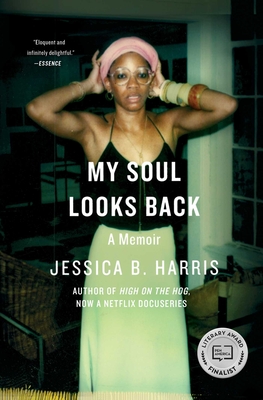 $17.99

Ships from warehouse to store in 3-6 business days
Description
---
In this captivating new memoir, award-winning writer Jessica B. Harris recalls her youth "surrounded by some of the most famous creative minds of the seventies and eighties…James Baldwin, Maya Angelou, Toni Morrison, Nina Simone" (New York magazine)—in a vibrant, lost era of New York City.

In the Technicolor glow of the early seventies, Jessica B. Harris debated, celebrated, and danced her way from the jazz clubs of the Manhattan's West Side to the restaurants of Greenwich Village, living out her buoyant youth alongside the great minds of the day—luminaries like Maya Angelou, James Baldwin, and Toni Morrison. My Soul Looks Back is her tribute to that fascinating social circle and their shared commitment to activism, intellectual engagement, and each other.

With "simmering warmth" (The New York Times), Harris paints evocative portraits of her illustrious friends: Baldwin as he read aloud an early draft of If Beale Street Could Talk, Angelou cooking in her California kitchen, and Morrison relaxing at Baldwin's house in Provence. Harris describes her role as theater critic for the New York Amsterdam News and editor at then-burgeoning Essence magazine; star-studded parties in the South of France; drinks at Mikell's, a hip West Side club; and the simple joy these extraordinary people took in each other's company. At the center is Harris's relationship with Sam Floyd, a fellow professor at Queens College, who introduced her to Baldwin.

More than a memoir of friendship and first love, My Soul Looks Back is a carefully crafted, intimately understood homage to a bygone era and the people that made it so remarkable.
About the Author
---
Jessica B. Harris holds a PhD from NYU, teaches English at Queens College, and lectures internationally. The author of the memoir My Soul Looks Back as well as twelve cookbooks, her articles have appeared in Vogue, Food & Wine, Essence, and The New Yorker, among other publications; she has made numerous television and radio appearances and has been profiled in The New York Times. Considered one of the preeminent scholars of the food of the African Diaspora, Harris has been inducted into the James Beard Who's Who in Food and Beverage in America, received an honorary doctorate from Johnson & Wales University and recently helped the Smithsonian Museum of African American History and Culture to conceptualize its cafeteria.
Praise For…
---
"[N]ever, to this reader, uninteresting ... "My Soul Looks Back" has a simmering warmth."
—The New York Times

"Eloquent and infinitely delightful."
—Essence

"Harris intimately reflects on her friendships with these fascinating individuals and their social circle, capturing an era that was vibrant with creativity, art, activism, and intellectual life."
—Buzzfeed

"My Soul Looks Back is a great New York City memoir; I thought of James Wolcott's Lucking Out and Patti Smith's Just Kids, both documents of the city in the seventies, as well as books from an earlier New York, like Anatole Broyard's Kafka Was the Rage and Mary Cantwell's Manhattan, When I Was Young ... I finished the book eager to find a noisy neighborhood restaurant where the wine is served in mismatched glasses and the specials are under twenty dollars."
—Epicurious

"[Harris] is a born storyteller and her memoir is a joy to read—a beautiful portrait of a remarkable era."
—Charleston Gazette-Mail

"A friend of celebrated authors Maya Angelou and James Baldwin, Harris was part of a fascinating social circle in the early '70s. She shares a unique look at their lives and work, while also opening up about her own career and relationship with one of Baldwin's colleagues. As a bonus, each chapter has a related recipe."
—Bustle

"Harris's culinary expertise winds through her stories, and each chapter ends with a recipe, including her mother's Sunday roast chicken and Goujonnettes de Sole with Ersatz Sauce Gribiche, inspired by her favorite after-opera meal. No doubt a few of Harris's friends have been saying for years that she had to write this memoir, and if so, they were right."
—Shelf Awareness

"This is a lively, entertaining, and informative recounting of a time and place that shaped and greatly enriched American culture."
—Publishers Weekly

"Scenic and engaging, My Soul Looks Back recounts the years author Jessica B. Harris spent on the periphery of a circle of friends that included literary powerhouses James Baldwin, Maya Angelou, and Toni Morrison. The memoir spans the globe and several decades to describe the fascinating group."
—Kirkus Reviews

"Come for the insight into the circle of friends that first resolved around James Baldwin, then shifted orbit to revolve around Maya Angelou. Stay because you're enraptured by the candid, passionate woman narrating from the periphery. This is an intimate look at an inner circle of Black writers, scholars, and glamazons moving through the middle of the twentieth century and into the twenty-first, told with bold tenderness by a woman who grew up in their company, under their gaze."
—Alice Randall, author of Ada's Rules and The Wind Done Gone

"At table, before a lectern, or on the page, no matter where we encounter Jessica B. Harris, she commands our attention. My Soul Looks Back, her most intimate book, showcases an era when the Black artistic elite flowered and Jessica, along with her love Sam Floyd, lunched with Maya Angelou in California, shared popcorn with James Baldwin in the South of France, and nurtured a social aesthetic that spangled, all too briefly, beneath the kliegs."
—John T. Edge, author of The Potlikker Papers: A Food History of the Modern South

"In My Soul Looks Back, Jessica Harris uses her amazing griot voice and exquisite writing skills to take the reader with her on a serendipitous journey filled with everything from a sampling of her unique culinary creations to up-close-and-personal looks at some of the world's most renowned arists—from James Baldwin, aka Jimmy, to the inner circle she was allowed into by her mysterious lover, Sam. A tour de force that holds its own among the great memoirs of all time."
—Charlayne Hunter-Gault, Emmy Award-winning journalist and author of In My Place

"Jessica Harris takes you on a magical journey through the streets of New York, through a distinctive and historical era."
—Pat Mikell, of Mikell's jazz club

"I devoured Jessica B. Harris's My Soul Looks Back as though it were one of the feasts she describes in its pages—brimming with food, wine, wit, and wisdom. This luminouus and illuminating memoir is also a song of love and praise to the heyday of bohemian, intellectual New York, and especially to the African American arts and literature community that has supplied the city with so much of its brilliance and vibrancy."
—Rosie Schaap, author of Drinking with Men
Free Media Mail shipping on U.S. orders over $75
"Ships from warehouse" books to be shipped: order by Wednesday, 12/6
"Ships from warehouse" books for pickup: order by Tuesday, 12/12