The Elephant in the Room: One Fat Man's Quest to Get Smaller in a Growing America (Hardcover)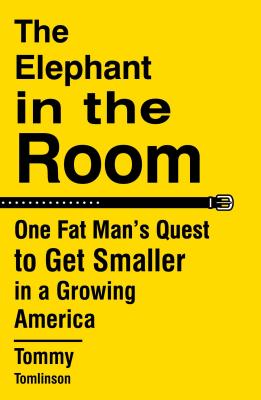 Description
---
ONE OF NPR'S BEST BOOKS OF 2019

"Inspirational…I loved this book. I found myself sneak-reading it from the moment it came in the door. As with a sack of White Castle burgers, I hated to reach the end….[Tomlinson] writes exceedingly well." —Dwight Garner, The New York Times

The government definition of obesity is a body mass index of 30 or more. My BMI is 60.7. My shirts are size XXXXXXL, which the big-and-tall stores shorten to 6X. I'm 6-foot-1, or 73 inches tall. My waist is 60 inches around. I'm nearly a sphere.

Those are the numbers. This is how it feels…

So begins The Elephant in the Room, Tommy Tomlinson's remarkably intimate and insightful memoir of his life as a fat man. When he was almost fifty years old, Tomlinson weighed an astonishing—and dangerous—460 pounds, at risk for heart disease, diabetes, and stroke, unable to climb a flight of stairs without having to catch his breath, or travel on an airplane without buying two seats. Raised in a family that loved food, he had been aware of the problem for years, seeing doctors and trying diets from the time he was a preteen. But nothing worked, and every time he tried to make a change, it didn't go the way he planned—in fact, he wasn't sure that he really wanted to change.

In The Elephant in the Room, Tomlinson chronicles his lifelong battle with weight in a voice that combines the urgency of Roxane Gay's Hunger with the intimacy of Rick Bragg's All Over but the Shoutin'. He also hits the road to meet other members of the plus-sized tribe in an attempt to understand how, as a nation, we got to this point. From buying a FitBit and setting exercise goals to contemplating the Heart Attack Grill in Las Vegas, America's "capital of food porn," and modifying his own diet, Tomlinson brings us along on a candid and sometimes brutal look at the everyday experience of being constantly aware of your size. Over the course of the book, he confronts these issues head-on and chronicles the practical steps he has to take—big and small—to lose weight by the end.

Affecting and searingly honest, The Elephant in the Room is a powerful memoir that will resonate with anyone who has grappled with addiction, shame, or self-consciousness. It is also a literary triumph that will stay with readers long after the last page.
About the Author
---
Tommy Tomlinson has written for publications including Esquire, ESPN the Magazine, Sports Illustrated, Forbes, Garden & Gun, and many others. He spent twenty-three years as a reporter and local columnist for the Charlotte Observer, where he was a finalist for the 2005 Pulitzer Prize in commentary. His stories have been chosen twice for the Best American Sports Writing series, and he also appears in the anthology America's Best Newspaper Writing. He is also the host of the podcast SouthBound in partnership with WFAE, Charlotte's NPR station. He has taught at Wake Forest University, the University of Georgia, and at workshops and conferences across the country. Tommy and his wife, Alix Felsing, live in Charlotte, North Carolina. The Elephant in the Room is his first book.
Praise For…
---
"Inspirational . . . I loved this book. I found myself sneak-reading it from the moment it came in the door. As with a sack of White Castle burgers, I hated to reach the end. . . . [Tomlinson] writes exceedingly well. . . . His clean and witty and punchy sentences, his smarts and his middle-class sensibility made me yearn for the kind of down-to-earth columnist I often read in the 1980s and 1990s but barely seems to exist any longer."
—Dwight Garner, The New York Times

"Powerful . . . A funny and moving account of what life is like for someone who carries extra weight."
—Garden & Gun

"A beautiful book . . . The man can write . . . For anyone who has ever loved a person of not just a few extra pounds but 100 or more—and wondered, 'How the heck did that happen?'—it will make you understand in a way you didn't before."
—Judith Newman, The New York Times Book Review

"The Elephant in the Room . . . is for anyone who's struggled with their weight, who's struggled with addiction, or for the people who love them."
—Salisbury Post

"This book deserves all the rave reviews that are pouring in. It's funny and poignant and life-affirming. . . . An acclaimed journalist and Pulitzer Prize finalist, Tomlinson can write like nobody's business."
—Traverse City Record Eagle

"Add this to your reading list ASAP."
—Charlotte Magazine

"The Elephant in the Room is more than a memoir of an ever-supersizing America. It's a love story. It's also a whipsmart history of working-class America, where the fast-food line is long and a weary mother's love is shown in third helpings of cornbread and butter beans. Tommy Tomlinson's singular voice—of journalist, Southerner, son, and of a husband who knows how lucky he is—is at turns punchy and poetic, heartbreaking and laugh-out-loud, and full of language so authentically fresh it needs no sell-by date. I could not turn the pages fast enough."
—Beth Macy, author of Dopesick

"I just read a wonderful book: The Elephant in the Room by Tommy Tomlinson. It's about his extreme weight struggles and also about family, marriage, class, journalism, the South, and food. It's warm and funny and honest and painful and poignant. I found it genuinely unputdownable."
—Curtis Sittenfeld, author of Prep and American Wife, on Twitter

"What a gift Tomlinson has. To take a subject this difficult, this personal, this, well, enormous, and to somehow make it read like a summer cliffhanger, but with depth, feeling, and huge moments of catharsis, is an amazing achievement. It's also a kindhearted book, generous, empathetic, and funny just when you need it to be."
—Brian Koppelman, co-writer of Rounders and co-creator and showrunner of Billions

"A revealing memoir . . . After topping out at 460 pounds and seeing a doctor's diagnosis of 'morbidly obese,' Tomlinson knew he needed to change before the 'morbid' part became reality. He doesn't hold back in his comments about his needs and wants and interjects enough humor to offset the more serious parts of the narrative and keep the pages turning. Readers who are overweight will find encouragement in Tomlinson's story, which serves as proof that with determination and the right attitude, anyone can win the battle over food addiction and/or obesity. An authentic look at a struggle that millions of Americans face every day."
—Kirkus Reviews
Coverage from NPR