Christmas Card Murder (Mass Market)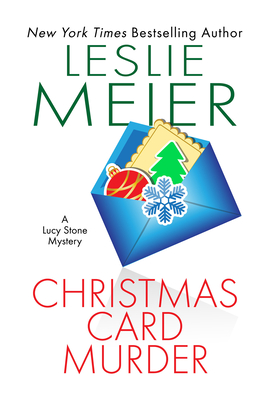 $8.99

Ships from warehouse to store in 3-6 business days
Description
---
Everyone dreams of a picture-perfect small-town Christmas, but when murder is in the cards, some holiday greetings are addressed to kill...

CHRISTMAS CARD MURDER by LESLIE MEIER
In the midst of holiday home renovations, Lucy Stone unwraps a murder mystery decades in the making when she discovers an old Christmas card with a nasty message inside. The case may be colder than a New England Christmas, but Lucy's determined to sort it out before Santa comes to town.

DEATH OF A CHRISTMAS CAROL by LEE HOLLIS
The Island Times Christmas soiree gets off to a scroogey start when Hayley Powell, Mona Barnes, and Rosana Moretti receive a Christmas card from the town flirt, Carol Waterman, who threatens to run off with one of their husbands! The ladies chalk it up to an imprudent prank... until they find Carol mistletoe-up under her tree...

DEATH OF A CHRISTMAS CARD CRAFTER by PEGGY EHRHART
Slay bells ring when the body of Arborville High School's beloved art teacher (and annual Christmas card designer), Karma Karling, is discovered on the first day of the Holiday Craft Fair. Now, Pamela Paterson and the Knit and Nibble crew must swap swatching for sleuthing in order to put a Christmas killer on ice.

About the Author
---
Leslie Meier is the acclaimed author of over twenty-five Lucy Stone Mysteries. She has also written for Ellery Queen's Mystery Magazine, and like her series protagonist, Lucy Stone, she worked as a New England newspaper reporter while raising her three children. She is currently at work on the next Lucy Stone mystery and can be found online at LeslieMeierBooks.com.

Peggy Ehrhart is the author of the Knit & Nibble Mystery series and the Maxx Maxwell Mysteries. A former English professor, she holds a Ph.D. in medieval literature from the University of Illinois and taught writing and literature at Queens College, CUNY, and Fairleigh Dickinson University, where she was a tenured full professor. Her short stories have appeared in Futures Mystery Anthology Magazine, Crime and Suspense, Flashing in the Gutters, Spinetingler, Crime Scene: New Jersey 2, and Murder New York Style. A longtime member of Mystery Writers of America and Sisters in Crime, Peggy served on the board of MWA New York as head of the Mentor Committee. She was president of Sisters in Crime NY/TriState from 2013 to 2015. Peggy regularly
attends mystery-writing conferences and participates in conference panels and also gives talks on mystery fiction at libraries in New York, Connecticut, and New Jersey. Visit her online at PeggyEhrhart.com.

Lee Hollis is the pen name for the brother and sister writing team behind the Hayley Powell Mystery Series. Rick Copp is a veteran Hollywood writer/producer and also the author of three other mystery novel series. He lives in Palm Springs, California. Holly Simason is an award-winning food and cocktails columnist who lives in North Carolina. Please visit them online at LeeHollisMysteries.com.
Free Media Mail shipping on U.S. orders over $75