The Enchanted Life: Unlocking the Magic of the Everyday (Paperback)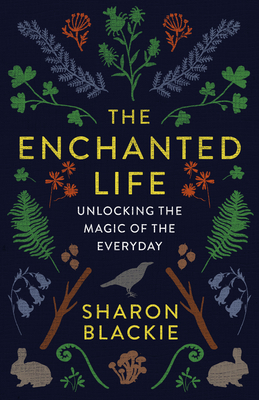 Staff Reviews
---
Sharon Blackie explores the philosophical and psychological history of disenchantment, and how Western society came to be so thoroughly and determinedly disenchanted with the world. In the face of the trauma this has caused (in the form of increasing rates of depression, anxiety, and physical manifestations of stress), she offers up an alternative: enchantment, or falling in love with the world and all its complexities.
Don't underestimate this work. Blackie has a strong background in neuroscience and doesn't hesitate to dive into academic texts spanning psychology, philosophy, and folklore. 
— Kaley
Description
---
Enchantment
. By Dr. Sharon Blackie's definition, a vivid sense of belongingness to a rich and many-layered world, a profound and whole-hearted participation in the adventure of life. Enchantment is a natural, spontaneous human tendency -- one we possess as children, but lose, through social and cultural pressures, as we grow older. It is an attitude of mind which can be cultivated: the enchanted life is possible for anyone. It is intuitive, embraces wonder, and fully engages the mythic imagination -- but it is also deeply embodied in ecology, grounded in place and community.
Taking as her starting point the inspiration and wisdom that can be derived from myth, fairy tales, and folk culture, Dr. Sharon Blackie offers a set of practical and grounded tools for enchanting our lives and the places we live, so leading to a greater sense of meaning and of belonging to the world. To live this way is to be challenged, to be awakened, to be gripped and shaken to the core by the extraordinary which lies at the heart of the ordinary.
Free Media Mail shipping on U.S. orders over $75