Bella's Fall Coat (Hardcover)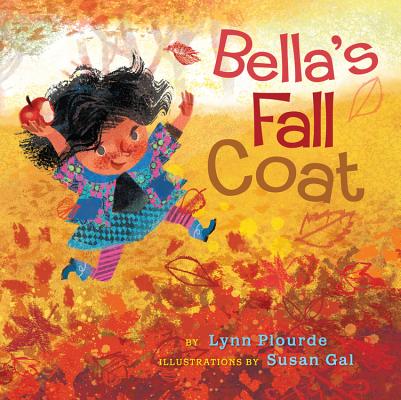 $17.99
Available from warehouse in 1-5 business days
Description
---
Bella loves the sights and sounds of fall--the crinkle-crackle of fallen leaves, the crunch of crisp, red apples, the honking and flapping of migrating geese. She wants the season to last forever. She also wants her fall coat--the one her Grams made especially for her--to last forever. But the coat is worn-out and too small. . . . With a snip and a whir, Grams makes sure Bella will be warm when the first snowflakes fall. And Bella finds a perfect use for her old favorite coat--on the first snowman of the season.

Adorned with beautiful fall oranges, reds, and yellows, and sprinkled with fun sound words, this read-aloud will help families celebrate both fall and winter.
About the Author
---
Lynn Plourde (www.lynnplourde.com) has had thirty picture books published, including
You're Doing
That
in the Talent Show?!
,
You're Wearing
That
to School?!
,
Wild Child,
and
Pigs in the Mud in the Middle of the Rud.
She considers herself a "teaching author," because she makes so many visits to schools to teach kids how to become better writers. Lynn lives in Winthrop, Maine, in a house surrounded by woods, and during her favorite season of fall, the trees fill her yard with colorful leaf confetti.
Susan Gal (www.galgirlstudio.com) began her illustration career as a poster and calendar artist in Los Angeles and then became an "in-betweener" (the artist who fills in movements between key frames in animation) for Disney Animation in Florida. Susan now lives in the Bay Area of California, where she happily creates lively, textural, and whimsical illustrations. She has written and illustrated several books for children, including Night Lights, Please Take Me for a Walk, Into the Outdoors, and Day by Day. When not working, Susan enjoys biking, backpacking, and hiking to really high places with her husband and daughter.
Praise For…
---
PRAISE FOR BELLA'S FALL COAT

*"Plourde's lovely text about the ephemeral nature of objects and seasons-and the lasting love of family-is beautifully realized by Gal's expressive, digital collage illustrations. . . Adults may feel nostalgia over seasons past-and young readers will be introduced to the enticing lure of autumn and the joys of sharing it with someone they love."—Kirkus (starred review)

PRAISE FOR YOU'RE DOING THAT IN THE TALENT SHOW?!

"With lively text and charming, vibrant cartoon illustrations, including ever-enthusiastic, colorfully clad Penelope and the more practical, low-key Tiny, this offers an entertaining, amusing read while insightfully portraying friendship's many facets, from appreciating differences to problem-solving disagreements to showing mutual support."—Booklist

PRAISE FOR BELLA'S FALL COAT

"The mutual adoration between Bella and Grams is abundantly evident in the tender exchanges Plourde puts together, as well as in Gal's gauzy, multilayered images, which capture both Bella's near-inexhaustible energy and that of a woodland landscape in flux."—Publishers Weekly

PRAISE FOR YOU'RE WEARING THAT TO SCHOOL?!

"The text reads aloud smoothly, with Tiny's repeated, dismayed "Oh, no, no!" inviting participation. Cornelison is a master of facial expressions, displaying the characters' emotions for all to see. "Tips for a Hippo Happy First Day of School" are appended. Although plenty of starting-school books are available, this is a pleasant addition where more are needed."—School Library Journal

PRAISE FOR YOU'RE WEARING THAT TO SCHOOL?!

"Penelope's avant-garde choices will certainly appeal to kids who think feather boas go with everything, while Tiny's concern is handled with tenderness and compassion-he really believes he's looking out for his friend. . .Clear writing, lively dialogue, and a solid story structure enhance this title's readaloud value as well. Cornelison's slightly soft-focus illustrations are strongly composed. . .Share this before or during the first day of school for an entertaining discussion prompt about individuality."—Bulletin of the Center for Children's Books

PRAISE FOR YOU'RE WEARING THAT TO SCHOOL?!

* "A hippo with her own sense of style shows her 1-year-older, uptight, mouse best friend that it's important to be true to yourself. . .Plourde's dialogue includes lots of give-and-take between Penelope and Tiny, encouraging children to join in, and Cornelison's illustrations positively revel in Penelope's outr glee.
Penelope joins the ranks of some other popular nonconformists, including Ian Falconer's Olivia, David Shannon's Camilla Cream and Victoria Jamieson's Bea."—Kirkus (starred review)