Dry (Hardcover)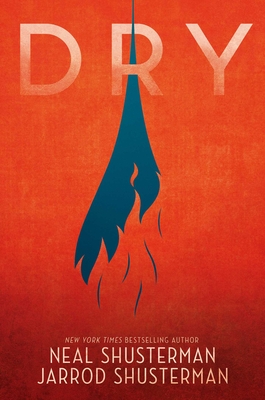 $19.99

Ships from warehouse to store in 1-5 business days
Staff Reviews
---
What happens when water-- the thing most of us take for granted every day, the thing that any living being needs to survive-- disappears?
When the taps in suburban California stop working, families are forced to go to extremes just to survive. In the midst of the initial panic, Alyssa's parents leave to find drinking water but don't return, so she gets stuck with her little brother and creepy, apocalypse-obsessed neighbor. Together, they trek across a now unfamiliar landscape, meet unlikely new friends and charming foes, and test their odds against "water zombies"-- humans who are so dehydrated that they will do anything for a single drop of water. This is a topical story, with themes of climate change, unethical public policy, and resource scarcity. More than anything, though, this book tests themultifaceted nature of humanity...When true disaster strikes, will people react with greed and violence, or charity and cooperation?
— Kiwi
Description
---
When the California drought escalates to catastrophic proportions, one teen is forced to make life and death decisions for her family in this harrowing story of survival from New York Times bestselling author Neal Shusterman and Jarrod Shusterman.

The drought—or the Tap-Out, as everyone calls it—has been going on for a while now. Everyone's lives have become an endless list of don'ts: don't water the lawn, don't fill up your pool, don't take long showers.

Until the taps run dry.

Suddenly, Alyssa's quiet suburban street spirals into a warzone of desperation; neighbors and families turned against each other on the hunt for water. And when her parents don't return and her life—and the life of her brother—is threatened, Alyssa has to make impossible choices if she's going to survive.
About the Author
---
Neal Shusterman is the New York Times bestselling author of more than thirty award-winning books for children, teens, and adults, including the Unwind dystology, the Skinjacker trilogy, Downsiders, and Challenger Deep, which won the National Book Award. Scythe, the first book in his latest series, Arc of a Scythe, is a Michael L. Printz Honor Book. He also writes screenplays for motion pictures and television shows. Neal is the father of four, all of whom are talented writers and artists themselves. Visit Neal at StoryMan.com and Facebook.com/NealShusterman.

Jarrod Shusterman is the New York Times bestselling coauthor of Dry. He has a passion for storytelling across many mediums, with love and multiculturalism as an ethos. Jarrod writes and directs with his partner Sofia, under their company Dos Lobos Entertainment. Together they enjoy traveling the world and learning new languages, living between Los Angeles and Spain. They can be found on Instagram @DosLobosMedia.