Storm Front (Dresden Files (Audio) #1) (Compact Disc)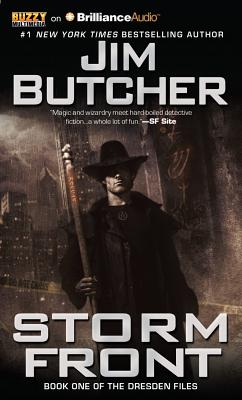 $64.97
Email or call for price.
Other Books in Series
This is book number 1 in the Dresden Files (Audio) series.
Staff Reviews
---
Storm Front, by Jim Butcher, introduces Harry Blackstone Dresden, Chicago's only professional wizard.  His yellow-pages ad (okay, it's a little dated) offers help in finding lost things, like car keys.  What it doesn't say is that Harry lives in a scary parallel world of fae, vampires, werewolves, and other things that rule the darkness. Harry and his small group of friends protect the mortal world from these nightmares with little help and even less awareness from the humans. Butcher creates a fascinating world of urban fantasy throughout the Dresden Files series, right down to the politics of the unseen world.  Start with this book and you'll want to read them all.  The best way to do that is to read them in order, as Harry's life and the lives of his cohort change and grow with each one. 
— Bill
Description
---
Meet Harry Dresden, Chicago's first (and only) Wizard P.I. Turns out the "everyday" world is full of strange and magical things--and most of them don't play well with humans. That's where Harry comes in. Harry is the best at what he does--and not just because he's the only one who does it. So when the Chicago P.D. has a case that transcends mortal capabilities, they look to him for answers. There's just one problem. Business, to put it mildly, stinks. So when the police bring him in to consult on a grisly double murder committed with black magic, Harry's seeing dollar signs. But where there's black magic, there's a black mage behind it. And now that mage knows Harry's name. And that's when things start to get...interesting. Magic--it can get a guy killed.