Imagine Me Gone (Pre-Recorded Audio Player)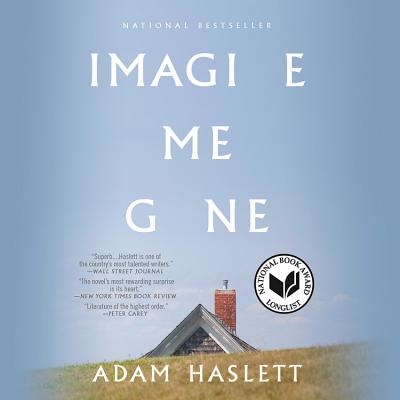 $77.69
Hard to find: allow 24 hours for information
Staff Reviews
---
Nancy Olson and I loved Adam Haslett's story collection, We Are Not Strangers Here. His new book, a novel entitled Imagine Me Gone, incorporates the same exquisite writing and intriguing characterization. He has created a beautiful story of a family haunted by mental illness. Early in the book, the father commits suicide to escape his demons, and the family is left to pick up the pieces. The oldest son suffers from the same demons, the youngest son is the peace-maker of the family, and the daughter struggles with balancing the needs of the family with a troubled but safe relationship. There is a Christmas scene that makes me think Haslett was eavesdropping in my living room this year! The characters are so vibrant and their situations so moving that I continue to think of them now that I've read the book to its compelling ending. Haslett has been a Pulitzer and National Book Award Finalist; I predict this will make top ten lists for 2016.
— Mamie
May 2016 Indie Next List
---
"Imagine Me Gone is a deeply moving portrayal of a family's complex love for one another as they manage and respond to the shape-shifting undercurrent of mental illness experienced by both father and son. A compelling read on every level, this novel is crafted with impressive emotional sensitivity, providing a direct feed into the inner lives and secrets of each character. Writing of this caliber is a rare thing. Haslett has created a gem of a novel that I will recommend over and over again."
— Nancy Scheemaker (W), Northshire Bookstore Saratoga, Saratoga Springs, NY
Description
---
From a Pulitzer Prize and National Book Award finalist, a story of a family facing the ultimate question: How far will we go for those we love the most?When Margaret's fiance, John, is hospitalized for depression, she faces a choice: carry on with their plans, or back away from the suffering it may bring her. She decides to marry him. Imagine Me Gone is the unforgettable story of what unfolds from this act of love and faith. At the heart of it is their eldest son, Michael, a brilliant, anxious music fanatic, and the story of how, over the span of decades, his younger siblings--the responsible Celia and the tightly controlled Alec--struggle along with their mother to care for Michael's increasingly troubled existence. Adam Haslett has given us something rare: an audiobook with the power to change how you see the most important people in your life.