Out of Sorts: Making Peace with an Evolving Faith (Paperback)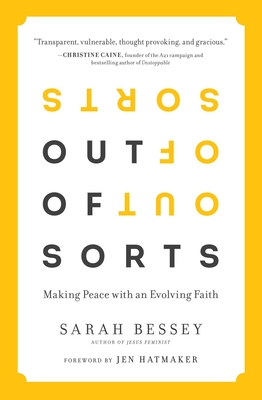 Description
---
From the popular blogger and provocative author of Jesus Feminist comes a riveting new study of Christianity that helps you wrestle with—and sort out—your faith.

In Out of Sorts, Sarah Bessey—award-winning blogger and author of Jesus Feminist, which was hailed as "lucid, compelling, and beautifully written" (Frank Viola, author of God's Favorite Place on Earth)—helps us grapple with core Christian issues using a mixture of beautiful storytelling and biblical teaching, a style well described as "narrative theology."

As she candidly shares her wrestlings with core issues—such as who Jesus is, what place the Church has in our lives, how to disagree yet remain within a community, and how to love the Bible for what it is rather than what we want it to be—she teaches us how to walk courageously through our own tough questions.

In the process of gently helping us sort things out, Bessey teaches us how to be as comfortable with uncertainty as we are with solid answers. And as we learn to hold questions in one hand and answers in the other, we discover new depths of faith that will remain secure even through the storms of life.
About the Author
---
Sarah Bessey is the author of the popular and critically acclaimed books, Out of Sorts: Making Peace with an Evolving Faith, Jesus Feminist, and Miracles and Other Reasonable Things. She is a sought-after speaker at churches, conferences, and universities all around the world. Sarah is also the cocurator and cohost of the annual Evolving Faith Conference and she serves as President of the Board for Heartline Ministries in Haiti. Sarah lives in Abbotsford, British Columbia, with her husband and their four children.
Praise For…
---
"There are so many things that Ilove about this book and I know you will too. I love Sarah Bessey and true toform in Out of Sorts she is transparent, vulnerable, thought provoking,and gracious as she wrestles with things we have all wrestled with, or one daywill. Her message of hope, love, and grace is stunning and my heart resonatesdeeply with the thought that 'we need each other, and we need to learn fromeach stream, because our stories don't happen alone; our roots are all tangledtogether.'"
— Christine Caine, founder of The A21 Campaign and Propel Women

"Honest, sober, and encouragingly relatable."
— Frank Viola, co-author of The Day I Met Jesus

"This is the truth: Sarah is one of my very favorite writers. The quality of her writing is so inspiring and beautiful and moving to me. And her complicated dance with church and all its tentacles is one that is familiar to so many of us. I love this book."
— Shauna Niequist, author of Bread & Wine

"Sarah Bessey writes with the fire of a preacher and the soul of a mother, critical thought without cynicism. Her deepest wounds have come from the church and so has her deepest healing. This book is for all of us who understand, we wonderers who long for Jesus and distrust easy answers. Here Sarah is a brave and faithful guide as we all learn to 'live the questions.'"
— Micha Boyett, author of Found

"Touching a raw nerve in contemporary evangelical experience, Sarah Bessey reflects on the inevitable reality of walking the path of faith without having it all worked out—and at times having none of it worked out. Thoughtful, compelling, moving, and real, Bessey models a faith many are seeking but afraid to voice, a faith released of the obligation to be certain. This is the kind of book you'll want to read and tell friends about."
— Peter Enns, author of The Bible Tells Me So

"Out of Sorts reads like a love letter to Jesus and to all those desperate to see His true face. Through her indomitable heart, brilliant mind, and vivid writing, Bessey sets an extravagant, cozy table in the middle of the spiritual desert."
— Glennon Doyle Melton, New York Times bestselling author of Carry On Warrior

"What you will find in these pages is nothing short of a gift. There are plenty of us out here reimagining, rethinking, reevaluating, restarting. You aren't alone....Thank you, my dearest Sarah Bessey, for helping us find our way back home."
— Jen Hatmaker, author of For the Love, 7, and Interrupted

"With refreshing honesty and engaging passion, Sarah Bessey reminds us that cheap certitude is a poor substitute for genuine faith."
— Brian Zahnd, pastor and author of Farewell to Mars

"[Bessey] creates a loving, inviting environment from which readers can approach their own questions, beliefs, and maturity."
— CBA Retailers & Resources

"Bessey offers a good forum for Evangelical Christians to question what they believe without getting bent out of joint."
— Library Journal

"Charming, beautifully expressive"
— Publishers Weekly
Free Media Mail shipping on U.S. orders over $50
Christmas ordering guidelines
"Ships from warehouse" items to be shipped: Order by Monday, 12/5
"Ships from warehouse" items to be picked-up in store: Order by Monday, 12/12
On hand items: We'll pull items in order of orders received, so keep them coming!