We are offering FREE media mail shipping on books. We are open from 10am-7pm Monday through Saturday and 10am-6pm Sunday. Phones may not be answered due to a high volume of calls.
Whistling Past the Graveyard (Hardcover)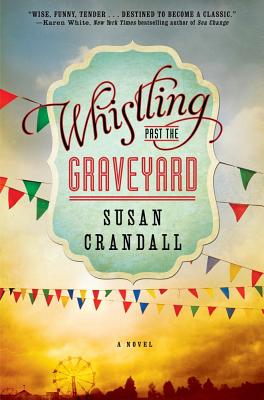 Email or call for price
Hard to find: allow 24 hours for information
July 2013 Indie Next List
---
"Fall in love with spunky Starla Claudelle, who runs away from a strict grandmother in 1963 Mississippi to find the mother she hasn't seen since she was three. As she journeys with a black woman named Eula, Starla has her eyes opened to larger issues of race and segregation. This wonderful novel will be devoured by book clubs and will cause every parent who finishes it to immediately find and hug their children. -Jill Hendrix, Fiction Addiction"
— Jill Hendrix, Fiction Addiction, Greenville, SC
Description
---
From an award-winning author comes a wise and tender coming-of-age story about a nine-year-old girl who runs away from her Mississippi home in 1963, befriends a lonely woman suffering loss and abuse, and embarks on a life-changing roadtrip.

In the summer of 1963, nine-year-old spitfire Starla Claudelle runs away from her strict grandmother's Mississippi home. Starla hasn't seen her momma since she was three—that's when Lulu left for Nashville to become a famous singer. Starla's daddy works on an oil rig in the Gulf, so Mamie, with her tsk-tsk sounds and her bitter refrain of "Lord, give me strength," is the nearest thing to family Starla has. After being put on restriction yet again for her sassy mouth, Starla is caught sneaking out for the Fourth of July parade. She fears Mamie will make good on her threat to send Starla to reform school, so Starla walks to the outskirts of town, and just keeps walking. . . . If she can get to Nashville and find her momma, then all that she promised will come true: Lulu will be a star. Daddy will come to live in Nashville, too. And her family will be whole and perfect. Walking a lonely country road, Starla accepts a ride from Eula, a black woman traveling alone with a white baby. The trio embarks on a road trip that will change Starla's life forever. She sees for the first time life as it really is—as she reaches for a dream of how it could one day be.
About the Author
---
Susan Crandall is a critically acclaimed author of women's fiction, romance, and suspense. She has written several award-winning novels including her first book, Back Roads, which won the RITA award for best first book, as well as Whistling Past the Graveyard, which won the SIBA 2014 Book Award for Fiction. Susan lives in Noblesville, Indiana, with her family.
Praise For…
---
"A coming-of-age story as well as a luminous portrait of courage and the bonds of friendship. . . Susan Crandall tells young Starla's story with pitch-perfect tone, evoking 1963 Mississippi and its struggles with a deft hand. I laughed and cried at Starla's keen observances of life and family and the sometimes blurred edges of justice. Like Harper Lee's To Kill a Mockingbird and Kathryn Stockett's The Help, Whistling Past the Graveyard is destined to become a classic."
— New York Times bestselling author Karen White

"Crandall delivers big with a coming-of-age story set in Mississippi in 1963 and narrated by a precocious 9-year-old…Young Starla is an endearing character whose spirited observations propel this nicely crafted story."
— Kirkus

"Starla's fiery independence makes her a likable narrator."
— Publishers Weekly

"A delightfully complex story about defying the odds to find the gifts we have tucked inside us."
— Shelf Awareness

"This is a work of imagination in the mind of a 9-year-old child that might remind you of Harper Lee's To Kill a Mockingbird or Kathryn Stockett's The Help... It's a real winner!"
— Liz Smith

"A luminous portrait of courage and the bonds of friendship, this coming of age story is as endearing and spirited as they come."
— Shape Magazine

"This coming-of-age story is a must for fans of Kathryn Stockett's The Help or Harper Lee's classic To Kill a Mockingbird."
— Working Mother Magazine

It's not easy to keep such a young narrator convincing for more than 300 pages... Readers will take to Starla and be caught up in her story.
— Mary Ellen Quinn

"Crandall threads historical detail throughout the book as the struggles of the civil rights movement are vividly portrayed…Crandall's young narrator captures the reader's heart."
— Library Journal

"WHISTLING PAST THE GRAVEYARD is a multi-layered saga that can be enjoyed by teens and adults alike. It has a cinematic quality that will make readers wish for a screen version. And you can't say better than that."
— BookReporter.com

"Inspiring... told with honesty."
— Coffee and Crackers

"I would recommend this book to those who enjoyed Secret Life of Bees,The Help, and Saving CeeCee Honeycutt."
— Teacher's Choice

"Worth the hype. Whistling will remind readers of favorite Southern novels, from The Secret Life of Bees to The Help.... [Crandall] is a deft stylist who handles Starla's first-person dialect with ease."
— Wilmington Star News