FREE Media Mail shipping on eligible items! We are open for browsing by appointment from 10am-6pm M-S and 10am-6pm Sundays. Email books@quailridgebooks.com for a reservation. Phones may not be answered due to high volume of calls.
The North Carolina Symphony: A History (Paperback)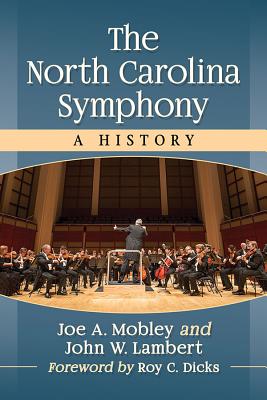 Description
---
From its beginnings during the Great Depression, the North Carolina Symphony has touched the lives of countless Tar Heels. One of the state's premier cultural organizations and the oldest continuously state-supported orchestra in the nation, the "Suitcase Symphony" grew from a small group of volunteer players to the world-class orchestra it is today. This book details the contributions of founder Lamar Stringfield, longtime conductor Benjamin Swalin and his wife, Maxine, current music director Grant Llewellyn, and other leaders of this iconic institution. The authors place the symphony's story for the first time in the context of North Carolina's cultural history and, in the process, reveal much about the musical traditions of the "Sahara of the Bozart" and about the trials and triumphs of maintaining a state symphony orchestra.
About the Author
---
Joe A. Mobley taught history at North Carolina State University after retiring from the North Carolina Office of Archives and History. He has authored a number of articles and twelve books, received a North Caroliniana Book Award for best book on the state's history, and served as president of both the North Carolina Literary and Historical Association and the Historical Society of North Carolina. He lives in Raleigh, North Carolina. John W. Lambert has written music reviews and articles for numerous publications and is currently executive editor of CVNC: An Online Arts Journal in North Carolina, as well as serving on the production team of Classical Voice North America. He has received the Raleigh Medal of Arts, the Durham Symphony's "Share the Music" Award, and an Indy Week Triangle arts citation. He lives in Raleigh, North Carolina.