The Quanderhorn Xperimentations (Paperback)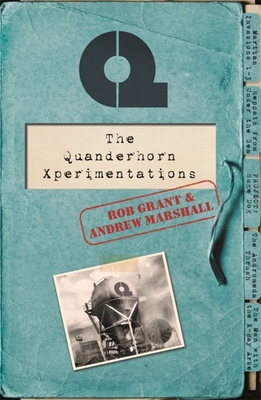 Description
---
ADAPTED BACKWARDS VIA THE FUTURE FROM THE RADIO 4 SERIES BEFORE IT WAS MADE
A richer, deeper, more comprehensive exploration of the Quanderhorn phenomenon. With added secrets.

England, 1952.
A time of peace, regeneration and hope. A Golden Age.
Unfortunately, it's been 1952 for the past 65 years.
Meet Professor Quanderhorn: a brilliant, maverick scientific genius with absolutely no moral compass. Assisted by a rag-tag crew - his part-insect "son" (reputedly 'a major breakthrough in Artificial Stupidity'), a recovering amnesiac, a brilliant scientist with a half-clockwork brain, and a captured Martian hostage - he'll save the world.
Even if he has to destroy it in the process.
With his Dangerous Giant Space Laser, Utterly Untested Matter Transfuser Booth and Fleets of Monkey-driven Lorries, he's not afraid to push the boundaries of science to their very limit.
And far, far beyond ...
About the Author
---
Rob Grant is the co-creator of Red Dwarf and was head writer of Spitting Image. His previous books include Red Dwarf novels, Fat and Incompetnce.
Andrew Marshall wrote and sometimes produced the comedies 2point4children, Dad, Health & Efficiency and the supernatural drama Strange for the BBC.
Praise For…
---
Daftly satirical... Grant, a co-creator of RED DWARF, and Marshall, writer of 2POINT4CHILDREN, bring their formidable sitcom talents to bear on this parody of Quartermass and Dan Dare.—FINANCIAL TIMES
We will be open on Memorial Day from 10 AM until 6 PM.
Free Media Mail shipping on U.S. orders over $50