We are offering FREE media mail shipping on books. We are open from 10am-7pm Monday through Saturday and 10am-6pm Sunday. Phones may not be answered due to a high volume of calls.
The Faces of Poverty in North Carolina: Stories from Our Invisible Citizens (Hardcover)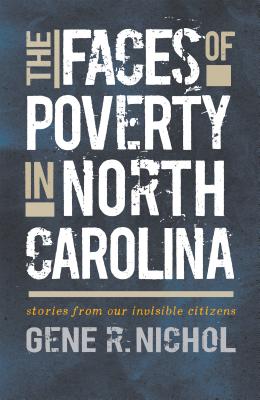 Description
---
These are the faces of poverty in North Carolina: scores of homeless men, women, and children take refuge in makeshift camps, barely hidden in the woods near some of our most affluent neighborhoods. Hundreds wait in lines hours long to receive basic health care at underfunded free clinics. In large cities and small towns, children--especially children of color--rely on meals at their schools to keep hunger at bay, while parents struggle in jobs that fail to pay living wages. While many in the Tar Heel State enjoy unparalleled prosperity, those born into poverty have lower odds than ever of climbing the ladder of economic upward mobility. Today, more than 1.5 million North Carolinians live in poverty. More than one in five are children. Behind these sobering statistics are the faces of our fellow citizens. This book tells their stories.

Since 2012, Gene R. Nichol has traveled the length of North Carolina, conducting hundreds of interviews with poor people and those working to alleviate the worst of their circumstances. Here their voices challenge all of us to see what is too often invisible, to look past partisan divides and preconceived notions, and to seek change. Only with a full commitment as a society, Nichol argues, will we succeed in truly ending poverty, which he calls our greatest challenge.