A Street Through Time: A 12,000 Year Journey Along the Same Street (DK Panorama) (Hardcover)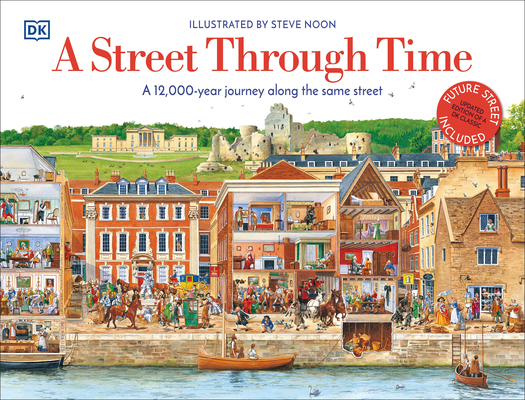 Description
---
Have you ever wondered what your street was like thousands of years ago? This illustrated history book for children takes you on a 12,000-year journey to find out the story of a single street.

Think of the street you live on. Now think of how it may have looked in the Stone Age in 10,000 BCE, or in Victorian times during the Industrial Revolution, or how it may look 50 years from now. A Street Through Time takes you on a time-traveling journey that you won't forget. Highly detailed illustrations bring 15 key periods in time to life. You will see magnificent buildings go up and come down, new churches built on the site of ancient temples, wooden bridges destroyed and then remade in stone, and statues demolished then unearthed many years later. You'll find out how people lived long ago - the tools they used, what they wore, and what they did all day. Revised and updated for a new generation, A Street Through Time now includes a look at the street 50 years in the future.
About the Author
---
Illustrator: Steve Noon is an award-winning illustrator and artist, with more than 25 years of experience in his field. As well as illustrating the first two editions of A Street Through Time, Steve has previously worked on a range of DK books, including A City Through Time, A Child Through Time, and Story of the Titanic. 
Historical consultant: Stephen Haddelsey is an author and historian. He previously consulted for DK on Explorers. 
Futurist consultant: Richard Watson is a futurist author and speaker who helps companies to think further ahead. He is the consultant for the brand new Street of the Future spread in A Street Through Time.
Free Media Mail shipping on U.S. orders over $75