Flashlight: (Picture Books, Wordless Books for Kids, Camping Books for Kids, Bedtime Story Books, Children's Activity Books, Children's Nature Books) (Hardcover)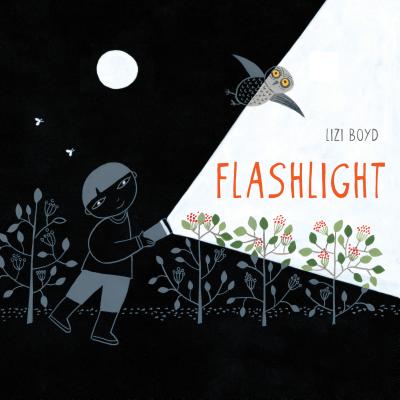 Description
---
Inside the tent it's cozy, but what is going on outside? Is it dark? Is it scary? Not if you have your trusty flashlight!

A charming story told solely through images: Through neatly drawn illustrations and a spare yet dramatic color palette, artist Lizi Boyd offers an enchanting exploration of night, nature, and art with Flashlight. Both lyrical and humorous, this visual poem—like the flashlight beam itself—reveals there is magic in the darkness. We just have to look for it.

• A wordless storybook with stunning visuals that aims to lighten the fear of the dark and the noises that come with it
• Book inspires the imagination and creativity in young minds
• Lizi Boyd is the author and illustrator of many children's books, including Inside Outside and Flashlight, and also creates papers, ribbons, cards, and other works of delight

"Flashlight allows readers to experience the wonder and excitement of nighttime exploration in the woods and wordlessly entices readers to explore the hidden nature outside their own homes." —The Busy Librarian

• Appeals to readers of all ages with the calming, yet adventurous tone
• Books for kids ages 5-6
• Children's picture books for preschool through first grade
About the Author
---
Lizi Boyd is the author and illustrator of many children's books, including Inside Outside, and also creates papers, ribbons, cards and other works of delight. She lives in Vermont.
Praise For…
---
"A must-have wordless picture book."--Library Media Connection, starred review
-
"A wordless picture book both soothing and gently humorous."--Kirkus Reviews, starred review
-
"Beneath the sweet, enchanting illustrations...lies a deeper reminder about the wonderland that unfolds when one is simply willing to look."--Maria Popova, Brainpickings
-
"Boyd showcases a child who is fully capable of educating and entertaining himself with only a few simple tools (a camping tent, a flashlight) at his disposal."-Publishers Weekly
-
"Children will enjoy repeatedly poring over the many details and creating their own nighttime narratives for this wordless outing."--Booklist
-
"Flashlight allows readers to experience the wonder and excitement of nighttime exploration in the woods and wordlessly entices readers to explore the hidden nature outside their own homes."--The Busy Librarian
-
"Positively breathtaking. nothing short of brilliant. No book more purely beautiful has appeared this year."-The Boston Globe
-
"This book brilliantly illustrates the passing time in myriad delightful ways. Wordless, Avant Aprs features pairs of images that show varied and unexpected before-and-after scenarios. The illustrations are graphic, clear, and uncluttered in a rich palette. While the its non-linearity invites readers to dip in and leaf through the pages at random, the end of the book triggers the desire to re-read it from the beginning and let time pass as they do."
-
"This elegant book serves to alleviate fear of night noises, instigate talk of nocturnal creatures, or bring calm as a bedtime story."-School Library Journal, starred review
-
"A charming and cleverly drawn picture book that needs no words to create a tiny, magical world."--Slate
-
"A completely engrossing, wordless story."--NPR Best Books of 2014
-
"A completely engrossing, wordless story."--NPR Best Books of the Year
-
"This inventive wordless offering. provides plenty of clever details."-The Horn Book
-