We are offering FREE media mail shipping on books. We are open from 10am-7pm Monday through Saturday and 10am-6pm Sunday. Phones may not be answered due to a high volume of calls.
The Mapmaker's War: Keeper of Tales Trilogy: Book One (The Keeper of Tales Trilogy #1) (Hardcover)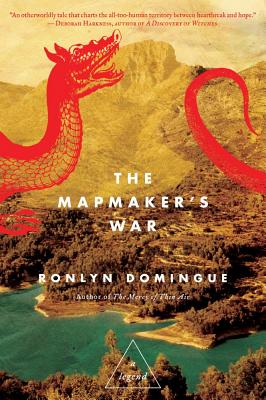 Email or call for price
Hard to find: allow 24 hours for information
Other Books in Series
This is book number 1 in the The Keeper of Tales Trilogy series.
Description
---
From the critically acclaimed author of The Mercy of Thin Air comes a fantastic tale, inspired by myth and legend, of an exiled mapmaker who must come to terms with the home and children she left behind.

This will be the map of your heart, old woman. In an ancient time, in a faraway land, a young woman named Aoife is allowed a rare apprenticeship to become her kingdom's mapmaker, tasked with charting the entire domain. Traveling beyond its borders, she finds a secretive people who live in peace, among great wealth. They claim to protect a mythic treasure, one connected to the creation of the world. When Aoife reports their existence to her kingdom, the community is targeted as a threat. Attempting to warn them of imminent danger, Aoife is exiled for treason and finds refuge among the very people who had been declared her enemy. With them, she begins a new life surrounded by kindness, equality, and cooperation. But within herself, Aoife has no peace. She cannot share the grief she feels for the home and children she left behind. She cannot bear the warrior scars of the man she comes to love. And when she gives birth to their gifted daughter, Aoife cannot avoid what the child forces her to confront about her past and its truth. On this most important of journeys, there is no map to guide her. In this tale—her autobiography— Aoife reveals her pain and joy, and ultimately her transformation.

The Mapmaker's War is a mesmerizing, utterly original adventure about love and loss and the redemptive power of the human spirit. Watch for its epic sequel, The Chronicle of Secret Riven, in 2014.
About the Author
---
Ronlyn Domingue is the author of The Chronicle of Secret Riven, The Mapmaker's War, and The Mercy of Thin Air, which was published in ten languages. Her essays and short stories have appeared in several print and online publications, including New England Review, Shambhala Sun, and The Nervous Breakdown. Connect with her on RonlynDomingue.com, Facebook, and Twitter.
Praise For…
---
"Journey to the heart of a fairy-tale land with doomed queens, epic quests, and enemy kingdoms in The Mapmaker's War. Ronlyn Domingue's jewel of a book has a big canvas, memorable characters, and intimate storytelling. You will be swept away by this otherworldly tale that charts the all-too-human territory between heartbreak and hope."
— Deborah Harkness, New York Times bestselling author of A Discovery of Witches and Shadow of Night

"A map can make sense out of the seen world. But it can also evoke greed. And what of a map of the heart? Legend, allegory, fantasy—this second novel by Domingue entwines genres to cast a spell upon its reader.... A curious, thought-provoking story about how the heart's terrain bears charting, too."

"Beautifully capturing the tone and voice of a classically told tale, Ronlyn Domingue crafts a deeply intelligent, richly enhanced tale of magic, power, greed, and the infinite resilience of the human heart."

"The book is reminiscent of some Edwardian novels in its emphasis on class and women's issues. Its mysticism and naturalism also recall the classic Green Mansions, published during that period. If you give Domingue's book a chance, it'll entrance you."

"Domingue follows up this success with The Mapmaker's War, another bold and innovative tale of a woman fighting for her place, told by second-person narrative."

"A fun read for fantasy lovers."

"Domingue deftly explores themes of motherhood, gender equality, and the powerful ties that bind us to our roots, while at the same time mesmerizing the reader with the story of a mythical land struggling to protect itself from the greed and jealousy of the slowly encroaching outside world."

"What a stunning, original book this is—restrained and sensual, cerebral and lush, always blazingly intelligent, epic and expansive, yet filled with the most precisely and lovingly observed details. This is one of the best books I've read in years. Reminiscent of Margaret Atwood's best work and yet wholly its own, The Mapmaker's War evokes one of its heroine's fantastic, world-defining maps: giving lines to human landscapes as old as myth, seemingly for the first time. You won't be able to put this book down, and it will take you somewhere you've never been, leaving you transformed."
— Carolyn Turgeon, author of Mermaid and The Fairest of Them All

"The Mapmaker's War is an extraordinary tale of a woman's courage in an ancient Utopian world. Domingue has taken on the herculean task of inventing a new legend, and the result is a remarkable novel at once absorbing and heart wrenching, but above all mesmerizing!"
— M.J. Rose, internationally bestselling author of Seduction

"The Mapmaker's War evokes not mere fantasy, but the real magic I found as a child, reading by flashlight under a blanket. As then, the story takes me by the hand to exotic lands and noble people. As it proceeds, I'm reminded of myself as a teen-age girl, chafing under the restrictions of an established order. Further on, I'm lead into adulthood. The story keeps me under its spell, but it fills with adult contradictions, with experiences of betrayal and regret, with sex and self-knowledge, with the reality of evil, and all the while, yes, the same old magic. But the magic has matured, now, redeemed by love and wisdom."
— Ava Leavell Haymon, author of Why the House Is Made of Gingerbread: Poems, Winner of the MIAL 2011 Prize for Poetry

"With an original voice, Ronlyn Domingue takes us into a land of strange truths and raw beauty. Writing against contemporary norms, she dares to forge into new territory even as she takes us into an ancient world. To the place of a red dragon and warm desire. A world full of love, and hate, and recompense. Domingue has a rare eye for the honest word and a heart willing to travel where the story leads. The Mapmaker's War offers us the chance to reflect on both our sins and saving graces and to believe in the possibility of a future that holds kindness and understanding as key. This novel is a celebration of brave women and men, of expansive vision, and ultimately, of a humanity not easily denied."
— River Jordan, nationally bestselling author of Praying for Strangers and The Miracle of Mercy Land