River Runs Deep (Hardcover)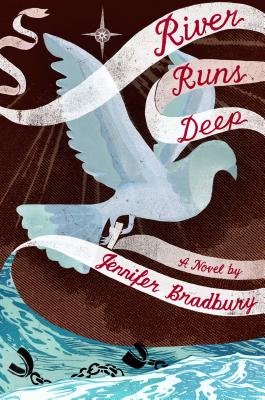 Description
---
When a boy is sent to Mammoth cave to fight a case of consumption, little does he know he'll also be fighting for the lives of a secret community of escaped slaves, who are hidden deep within the cave.

Twelve-year-old Elias has consumption, so he is sent to Kentucky's Mammoth Cave—the biggest cave in America—where the cool cave vapors are said to be healing. At first, living in a cave sounds like an adventure, but after a few days, Elias feels more sick of boredom than his illness. So he is thrilled when Stephen, one of the slaves who works in the cave, invites him to walk further through its depths.

But there are more than just tunnels and stalagmites waiting to be discovered; there are mysteries hiding around every turn. The truths they conceal are far more stunning than anything Elias could ever have imagined, and he finds himself caught right in the middle of it all—while he's supposed to be resting. But how can he focus on saving his own life when so many others are in danger?
About the Author
---
Jennifer Bradbury is the author of the middle grade novel River Runs Deep and of several critically acclaimed young adult novels, including A Moment Comes, Wrapped, and her debut, Shift—which Kirkus Reviews called "fresh, absorbing, compelling" in a starred review. Shift was picked as an ALA and a School Library Journal Best Book for Young Adults and is also on numerous state reading lists. A rock climber herself, she is also a teacher in Burlington, Washington, where she lives with her family.
Praise For…
---
A tubercular boy is sent to live in a cave that might heal him. Bradbury uses an odd historical fact to jump-start a story about the Underground Railroad. After his father dies from consumption, 12-year-old Elias, suffering from the same disease, is sent from eastern Virginia to live inside Kentucky's Mammoth Cave. This enormous underground labyrinth, already a tourist attraction in the 1840s, is also a sanitarium. Dr. John Croghan believes "cave vapors" can cure the disease, but he also tries restrictive diets, immobility, and horse-urine baths. Numerous slaves attend the patients and also lead tours of the caves; in their off hours they explore the cave's unknown edges. Bored and lonely, Elias begins to follow them, discovering that a far cavern actually houses runaway slaves—now trapped and running low on supplies due to guards at the entrances. Elias' family owns slaves, and he's never questioned slavery's morality, but in the darkness of Mammoth Cave he begins to change his views. Bradbury's plot falters a bit at the end, when a posse of men seems more bumbling than harmful, but she will hold readers throughout with a consistent third-person perspective focused through Elias and his gradual character development, not on the glories of the cave. Several pages of backmatter give insight into the history of the cave and the real Dr. Croghan, with suggestions for further reading. A solid look at a fascinating historical side note.
— Kirkus Reviews

In 1842, Dr. John Croghan believed that patients suffering from consumption could be cured by special diets and the cool, damp air found in Kentucky's Mammoth Cave. In this book, one of his patients is 12-year-old Elias Harrigan, who befriends slaves working in the cave and is unknowingly drawn into another patient's (Pennyrile's) dubious scheming. When Elias begins to feel better, he joins the slaves as they make their rounds delivering food and conducting tours of the cave. Finding himself deeper in the cave than he ever anticipated, he stumbles upon a shocking situation that links back to Pennyrile. Caught in the middle of a life-and-death circumstance, Elias must decide whether he will risk everything or walk away. Drawing upon the real-life figures of Dr. Croghan and three of Mammoth Cave's slaves (Stephen Bishop, Nick Brandsford, and Mat Brandsford), Elias' story makes history come alive. An adventure-laden celebration of nineteenth-century medical innovation and important African American contributions to the charting of the largest cave system in the world.
— Booklist

Twelve-year-old Elias is sent from his Virginia home to Dr. Crogan's experimental hospital located within the Mammoth Caves of Kentucky, in the hopes that he can be cured of consumption (tuberculosis). In this pre-Civil War setting, patients are served by slaves, who also lead cave tours. When Elias surreptitiously follows a slave named Stephen into a tunnel, he discovers a network of secret tunnels that house a hidden community of runaway slaves. When a patient and former boat crew member, Pennyrile, gets suspicious and begins investigating, the runaway slaves must quickly hide their existence. The slaves forced to work at the Mammoth Cave protect their pride and dignity in multifaceted manners. Stephen and another slave named Jonah play jokes on the white tourists, such as making them believe that they have encountered a ghost. Descriptions of Dr. Croghan's primitive medical treatments, such as intentional bleeding, forced vomiting, and homemade instruments, illustrate the painful and fruitless state of health care for tuberculosis patients at that time. A further reading section describes the author's personal connection to the story, provides additional titles, and includes details about the real-life characters in the story and the treatment of tuberculosis. This work boasts richly developed African American characters and extraordinary settings. VERDICT Recommended for libraries wanting to expand their historical fiction collection.–Jennifer Schultz, Fauquier County Public Library, Warrenton, VA
— School Library Journal

Twelve-year-old Elias awakens one day in a cave. Sent from his home in Norfolk, Virginia, to Kentucky, he is suffering from tuberculosis, and rumors of Doc Croghan's healing powers—is it the cave, the diet, the water?—are spreading. But what is truth and what is fiction? Surely, the all-egg diet Elias is prescribed cannot be doing the trick, but he is healing. As he does, he befriends slaves Stephen, Nick, and Jonah, who tend to his needs and his spirit. There are secrets in the cave, and neighboring patient Pennyroyal seems determined to discover them. Does Pennyroyal have ulterior motives beyond his own failing health? And what are Stephen, Nick, and Jonah really up to? Bradbury's River Runs Deep rewards readers who make the effort to plumb its depths.

Elias spends much of his time in the literal and figurative dark in Bradbury's finely crafted novel. Set in the 1800's, this is a period piece of literary fiction where form meets function. In the dark, Elias interacts with characters who are shrouded in mystery and hidden motives. They necessarily remain flat until the true mysteries of Mammoth Cave come to light. Then, events unravel at breakneck pace, and the reader's patience is rewarded with an exciting story based on America's real past. This is a novel for teachers to give their students to inform them of two of the biggest social issues of the nineteenth century.—Jim Nicosia.
— VOYA

Inthe early nineteenth century, both cause and reliable cure for tuberculosiswere unknown, and any number of nostrums and treatments seemed, for desperatesufferers, to be worth a try. Thus twelve-year-old Elias ends up at the"hospital" of Dr. Croghan, deep in Kentucky's Mammoth Cave, where the doctorbelieves patients will benefit from its vapors. Elias does, in fact, get betterquickly, but no thanks to the vapors. Rather, the slaves who work in the caveas hospital assistants and tour guides slip water from a cave river into hisdiet. While Croghan rejoices in his model patient's rapid recovery and ponderswhy other sufferers aren't experiencing the same success, Mr. Pennyrile, apatient in an advanced stage of the disease, suspects both the source of thehealing water and a community of runaway slaves hiding in the caves. Hepressures Elias into aiding his plot to secure his cure, capitalize financiallyon the remedy, and claim the bounty on the slaves, all in one high-stakesgamble. Although Bradbury's tale is largely speculative, the possibility ofeach plot point is credible and the cast, from Croghan to the African-Americantour guides, is drawn from real life. Mr. Pennyrile's schemes add a fair amountof tension to the intriguing story, and Elias' grappling with the morality ofslavery is both thoughtful and realistic. The cave itself (map included) enjoysa featured role, and readers up for a satisfying fusion of historical fiction,conspiracy, and survival will want to explore.
— Bulletin of the Center for Children's Books

Bradbury's newest novel juxtaposes a boy's fight against tuberculosiswith a historical tale of survival, all set against the magnificent backdrop ofMammoth Cave in mid-19th century Kentucky. When Elias is diagnosed withconsumption, his terrified mother sends him to a clinic in Mammoth Cave. Thecave is supposedly imbued with magical healing vapors. Elias' three weeks inthe cave are filled with disgusting food and endless hours of boredom,occasionally relieved by his knot-tying practice. Everything changes when theghost arrives. Elias' determination to uncover the mystery behind the ghostlyvoice leads him deeper into the caves and deeper into trouble. Bradbury'smeticulous research, both concerning the layout of the cave and the real-lifetuberculosis hospital that existed there, are deftly intertwined with acompelling story, creating a jewel of a knot for readers to unravel. Chaptertitles and an author's note round out the story. Michaela Schied, Teacher Librarian, Indian River Middle School,Philadelphia, New York [Editor's Note: Available in e-book format.]

Recommended
— School Library Connection
Free Media Mail shipping on U.S. orders over $75
"Ships from warehouse" books to be shipped: order by Wednesday, 12/6
"Ships from warehouse" books for pickup: order by Tuesday, 12/12