Report From Iron Mountain (Paperback)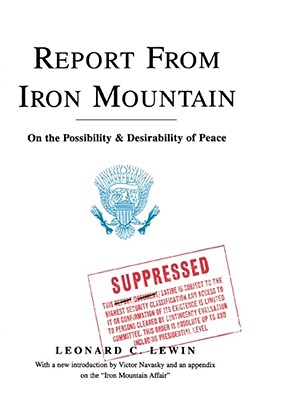 $13.95

Ships from warehouse to store in 3-6 business days
Description
---
Claiming to be of the contents of a "secret government report" until it was proven false by the investigative work of journalist and scholars, Report from Iron Mountain outlines the social structure changes that would come with world peace in the 1960s.

This political satire that took the world by storm under the guise of a "secret government report" was a bestselling novel of the late 1960s. After journalists and scholars debated for years over its disturbing claims, the truth revealed that the perplexing, ingenious, and ceaselessly curious Report from Iron Mountain was not filled with contents of a top-secret document, but rather made up of writer/editor Leonard Lewis's own fictional predictions.

Lewis claims that the condition of permanent peace at the end of the Cold War would threaten the nation's economic and social stability, in addition to his controversial examination of how political leadership reflects on the nation's ability to go to war.

Though proven to be a false claim of nonfiction, Lewin and the consortium of peace movement intellectuals that conceived and launched the concept went on to publish a book that would take on a life of its own, far from what was intended.
About the Author
---
Leonard C. Lewin is an American author best known for his bestselling book Report From Iron Mountain. Lewin studied at Harvard University. He passed away in January 1999.
Free Media Mail shipping on U.S. orders over $75