Recursion (Large Print / Library Binding)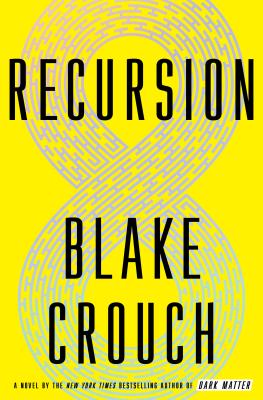 $40.45
Email or call for price.
June 2019 Indie Next List
---
"As soon as I saw Blake Crouch's name, I scooped this book up. As a huge fan of Dark Matter, I knew I was in for a treat. In his newest, Crouch quickly reveals the cause of the 'fake memories' that are plaguing the population, but the twists and thrills just keep coming. I haven't been this satisfied with a book in a long time. Hitting and exceeding all of my expectations, this one will be hard to beat as my favorite book of the year."
— Mary Salazar, The Country Bookshop, Southern Pines, NC
Summer 2020 Reading Group Indie Next List
---
"This book felt like science fiction/mystery at the beginning, but turned into psychological thriller. Like a roller coaster, it was a slow ride up the hill and then a quick drop into a Groundhog Day from hell. Barry starts investigating False Memory Syndrome, while Helena works towards finding a way to save memories for people like her mother, who has Alzheimer's. The line between what is real and what is memory blurs, and humanity may not be able to handle it."
— Kalli King, Rediscovered Books, Boise, ID
Description
---
Memory makes reality. That's what NYC cop Barry Sutton is learning, as he investigates the devastating phenomenon the media has dubbed False Memory Syndrome--a mysterious affliction that drives its victims mad with memories of a life they never lived. That's what neuroscientist Helena Smith believes. It's why she's dedicated her life to creating a technology that will let us preserve our most precious memories. If she succeeds, anyone will be able to re-experience a first kiss, the birth of a child, the final moment with a dying parent. As Barry searches for the truth, he comes face to face with an opponent more terrifying than any disease--a force that attacks not just our minds, but the very fabric of the past. And as its effects begin to unmake the world as we know it, only he and Helena, working together, will stand a chance at defeating it. But how can they make a stand when reality itself is shifting and crumbling all around them? At once a relentless pageturner and an intricate science-fiction puzzlebox about time, identity, and memory, Recursion is a thriller as only Blake Crouch could imagine it--and his most ambitious, mind-boggling, irresistible work to date.

About the Author
---
BLAKE CROUCH is a novelist and screenwriter. His novels include the New York Times bestseller Dark Matter and the international-betselling Wayward Pines trilogy, which was adapted into a teleivsion series for FOX. He also co-created the TNT show Good Behavior, based on his Letty Dobesh novellas. He lives in Colorado.