We are offering FREE media mail shipping on books. We are open from 10am-7pm Monday through Saturday and 10am-6pm Sunday. Phones may not be answered due to a high volume of calls.
Frances Mayes Always Italy (Hardcover)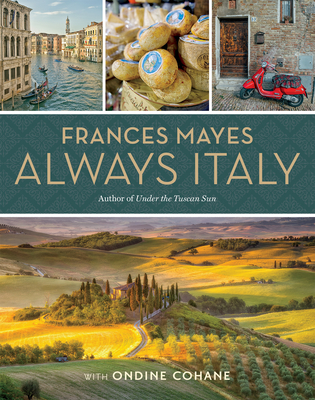 Staff Reviews
---
We will want to return to Italy or visit if for the first time as soon as we can.  Italy will need us and Frances has written the guide that will help us plan the trip now.  In this richly illustrated guide (published by National Geographic!) Frances and Ondine Cohane travel the entire country and find the interesting and out of the way spots as well as the can't miss treasures of Italy. They include very practical information about what to see and do; where to stay, where to eat, and they introduce us to interesting people. It is the perfect book to dream with right now. 
Frances was scheduled to talk with us about this book in person but now that plans have changed she has sent signed book plates that will be available with every book.  And just maybe she'll get to come see us in the fall!
— Rene
Description
---
The world's favorite expert on la dolce vita (Under the Tuscan Sun author) guides readers through Italy's iconic regions, replete with lavish National Geographic images.

This lush guide, featuring more than 350 glorious photographs from National Geographic, showcases the best Italy has to offer from the perspective of two women who have spent their lives reveling in its unique joys. In these illuminating pages, Frances Mayes, the author of Under the Tuscan Sun and many other bestsellers, and New York Times travel writer Ondine Cohane reveal an Italy that only the locals know, filled with top destinations and unforgettable travel experiences in every region. From the colorful coastline of Cinque Terre and the quiet ports of the Aeolian Islands to the Renaissance architecture of Florence and the best pizza in Rome, every section features insider secrets and off-the-beaten-path recommendations (for example, a little restaurant in Piedmont known for its tajarin, a pasta that is the perfect bed for the region's celebrated truffles). Here are the best places to stay, eat, and tour, paired with the rich history of each city, hillside town, and unique terrain. Along the way, you'll make stops at the country's hidden gems--art galleries, local restaurants, little-known hiking trails, spas, and premier spots for R&R. Inspiring and utterly unique, this vivid treasury is a must-have for anyone who wants to experience the best of Italy.
About the Author
---
FRANCES MAYES is the author of four bestsellers, Under the Tuscan Sun, Bella Tuscany, Everyday in Tuscany, and In Tuscany. All are about taking chances, living in Italy, and the "voluptuousness of Italian life." A widely published poet and essayist, Mayes has written numerous memoirs, books of poetry, and novels. Formerly a professor of creative writing at San Francisco State University, she now devotes herself full-time to writing, traveling, and restoring a historic garden. She and her husband divide their time between North Carolina and Cortona, Italy.
ONDINE COHANE, a contributing editor at Condé Nast Traveler, writes regularly for the New York Times travel section, among many other publications. She has appeared on CNN and Good Morning America, and co-hosts Condé Nast Traveler's Insider Guide series on PBS. Cohane lives in the Renaissance town of Pienza in Southern Tuscany and owns two boutique hotels.
Praise For…
---
"Frances Mayes is a bon vivant who seems to have found a limitless muse in the country of Italy. Though we can't hop a plane to Europe at the moment, we can find inspiration for future trips in her gorgeous new book … this dazzling digest…the next best thing to an Italian vacation." –Forbes.com  
 
"Armchair-wanderlusting at its finest: Let the Georgia-born Frances Mayes, author of Under the Tuscan Sun, be your guide to Italy. With co-author Ondine Cohane, a travel writer who lives in Southern Tuscany, this book is a primer on every hidden pocket and charming café you dream of sitting in right about now." –Garden & Gun

"What a gorgeous book! I didn't have plans to necessarily visit Italy one day, but I do now! Wow!... When the world recovers, a trip to Italy must be in the works! " –Instagram: @bookswithBethany
 
"Beautiful book. I wish I was there right now." –Instagram: @twistsandtropes
 
"Always Italy allows you to live, breathe, and eat Italy…a fresh and exhilarating take on Italy that's worth reading. –Tabi Thoughts
 
"Especially given recent times, I cherished my time spent with this beautiful book. As with any National Geographic book, the book is filled with stunning pictures, and the content sparkles just as much. If you are planning to travel to Italy, or if you dream of traveling there, this book is your quintessential traveling companion." –Jennifer - Tar Heel Reader

Featured in Upscale Magazine Gift Guide

"A must for any Italy visit!" -Instagram: @colbywilkens

"Always Italy is such a treat! Gorgeous photos as only a @natgeo book can do, travel tips and the best of the regions this book has given me so many ideas of how I would travel to Italy differently this time around. Dreams!" –Instagram: somekindofalibrary  

"With everyone stuck at home right now it's fun to make future plans to travel maybe this summer. Books like this one can brighten your spirits And teach you a lot at the same time. Live La Dolce Vita!" –Instagram: @wellreadtraveler
 
"Talk about the perfect book to armchair travel to Italy with… It is spectacular! Gorgeous photographs that will have you imagining yourself wandering the streets of Italy, living 'la dolce vita'." –A Bookish Way of Life
 
"There are more than 400 pages packed with practical information about the best of Italy but what I loved most was the obvious passion that these two women have for Italy. It's impossible to read this book and not want to follow in their footsteps and visit ALL of Italy!" –Gone With the Family
 
"You get the sense that Mayes loves each region as much as her beloved Tuscany! Not a hard feat, given the magnificence that is Italy." –The Unexplorer
 
"One of the things I love the most about Mayes is her love of food. While "Under the Tuscan Sun" was scrumptious in its descriptions, the recipes printed at the end were reason enough to fall in love with this book…I am going to be honest–I really miss traveling…Along with stunning images and mouth-watering descriptions, I could almost pretend as though I was on holiday for a while." –The Wayfaring Voyager

"I found this book to be interesting and enlightening. One can certainly tell that Ms. Mayes is passionate about Italy and I feel that every tourist will benefit from having this book when deciding on a vacation."  — Man of La Book blog