Buen día, buenas noches: Good Day, Good Night (Spanish edition) (Hardcover)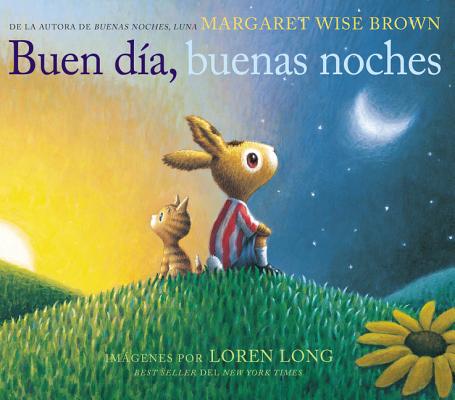 $17.99

Ships from warehouse to store in 3-5 business days
Description
---
This high-quality Spanish-language book can be enjoyed by fluent Spanish speakers as well as those learning the language, whether at home or in a classroom.
Un libro completamente nuevo de Margaret Wise Brown, la autora best seller de Buenas Noches, Luna, cobra vida con las imágenes del ilustrador best seller #1 del New York Times, Loren Long, quien ilustró el libro del del presidente Barack Obama A ti te canto.
Cuando sale el sol y el día comienza, el conejito dice buen día a todas las cosas familiares. A las aves del cielo y las abejas en sus colmenas, a todos uno por uno. Y cuando el sol comienza a ocultarse, es hora para que el conejito diga buenas noches. Buenas noches, gatito. Buenas noches, osito. Buenas noches, personas de todo el mundo.
Este texto nunca antes publicado de la querida autora Margaret Wise Brown utiliza su forma característica de escribir del clásico Buenas noches, Luna que ha arrullado a generaciones de niños antes de dormir. Combinado con las ilustraciones maravillosas de Loren Long, esta historia ofrece a los lectores confort en el mundo reconfortante del conejito.
A never-before-published picture book from Margaret Wise Brown, the bestselling author of Goodnight Moon, brought to life by Loren Long, #1 New York Times bestselling illustrator of President Barack Obama's Of Thee I Sing.
When the sun comes up and the day begins, the little bunny says good day to all the familiar things outside. To the birds in the skies and the bees in their hives, to everything one by one. And as the sun starts to set, it's time for the little bunny to say goodnight. Goodnight, kitty. Goodnight, bear. Goodnight, people everywhere.
This previously unpublished picture book by beloved children's book author Margaret Wise Brown uses her signature word pattern from the classic Goodnight Moon that has soothed generations of children to sleep. Paired with Loren Long's gorgeous illustrations, readers will take comfort in the reassuring world of the little bunny and delight at the attention to detail and hidden surprises on every page.
About the Author
---
Margaret Wise Brown, cherished for her unique ability to convey a child's experience and perspective of the world, transformed the landscape of children's literature with such beloved classics as Goodnight Moon and The Runaway Bunny. Other perennial favorites by Ms. Brown include My World; Christmas in the Barn; The Dead Bird; North, South, East, West; and Good Day, Good Night.
Loren Long is the illustrator of the New York Times bestselling picture book Love by Matt de la Pena, as well as the author-illustrator of Otis, Otis and the Tornado, Otis and the Puppy, An Otis Christmas, and Otis and the Scarecrow. He is the #1 New York Times bestselling illustrator of President Barack Obama's picture book Of Thee I Sing and the reillustrated edition of The Little Engine That Could by Watty Piper. He lives in Ohio. To learn more, please visit www.lorenlong.com.