All the Light We Cannot See (Thorndike Reviewers' Choice) (Large Print / Hardcover)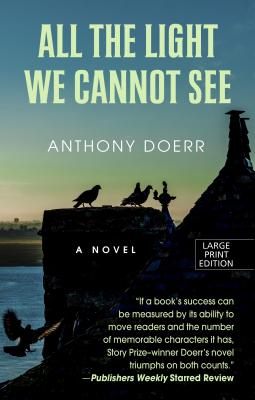 $35.99

Ships from warehouse to store in 1-5 business days
Staff Reviews
---
I'm adding my accolades to a book that so many of our staff have loved. Award-winning author Anthony Doerr's latest work is set during WWII. Werner, a young German orphan, is coerced into monitoring radio for the Hitler Youth. Marie-Laure, a blind Parisian girl, is forced to flee the city by the Nazi occupation. Carrying on her uncle's work, she broadcasts music to spread hope for her captive nation. Little does she know it will touch the heart of a German boy being held captive in his own way. Doerr's evocative, vivid writing style makes the trials of war jump off the page; Marie-Laure and Werner are like living, breathing people, and their inner strength will move you.
— Lisa
Doerr paints a full picture of the German-French relations through the eyes (and ears) of children. He uses beautiful phrases and words to describe the simplest things, from a seashell to a meager can of peaches. One of my favorite reads in a long time.
— Chelsea
As the Nazis relentlessly push for world domination, two young people try to comprehend it all as they go about a child's business of growing up:  A French girl, blind from early childhood; a German boy who succumbs to the moral sightlessness of the pure evil that is at work.  You cannot be indifferent to Doerr's characters. His vivid imagery will take your breath away. But the genius here is that woven throughout this compelling story is an inescapable truth: At every turn, each of us is called to make a decision about personal responsibility. This is an extraordinary book: so riveting, I couldn't put it down; so beautifully written, I didn't want it to end.   
— Samantha
 I don't think I've learned so much with such intense pleasure, while wishing a 530 page novel were twice as long. Covering a ten year period, from 1934 to 1944, Doerr weaves in and out of the lives of his two protagonists, bringing them ever closer together. Marie-Laure is a French girl blind since age 6, the cherished daughter of the locksmith at France's Museum of Natural History. Werner is a German orphan growing up among the sooty coal mines of Zollverein, a key supplier of the energy required to power the Third Reich. Astronomy, gemology, ornithology, natural history, trigonometry, joinery, and, especially, the art of radio transmission, are rendered beautifully and lovingly while at the same time the story's tension builds toward an inescapable, nail-biting climax. A masterpiece you won't want to miss.
— Sarah
I have to admit, I'm a sucker for world war two novels, but this has to be one of the most beautiful things I've ever read. There is so much raw emotion in these pages, lyrical prose and complexity. All the stories alone are so powerful, but when intertwined, they form a masterpiece that transcends time to show the true meaning of life-love. While you need to have a pack of tissues beside you at all times while you read this, it's absolutely worth it because it reminds you of all the light that's in the world.
— Christina P.
May 2014 Indie Next List
---
"The French girl cannot see, but she can hear, feel, and explore the world around her like a budding naturalist. The German boy has no parents, but he teaches himself how coils of copper can receive lessons of love and learning. It's World War II, however, and the potential of thousands of children will be unrealized or thwarted. Will a mythical gemstone save them or unite them? Gorgeously written, Doerr's epic tale brings alive the beauty of two souls, their quest for learning, the turbulent times they cannot control, and the rock that mysteriously guides their fate."
— Harriett Logan, Loganberry Books, Shaker Hts, OH
Description
---
MARIE-LAURE LIVES WITH HER FATHER in Paris near the Museum of Natural History, where he works as the master of its thousands of locks. When she is six, Marie-Laure goes blind and her father builds a perfect miniature of their neighborhood so she can memorize it by touch and navigate her way home. When she is twelve, the Nazis occupy Paris and father and daughter flee to the walled citadel of Saint-Malo, where Marie-Laure's reclusive great-uncle lives in a tall house by the sea. With them they carry what might be the museum's most valuable and dangerous jewel.
In a mining town in Germany, the orphan Werner grows up with his younger sister, enchanted by a crude radio they find. Werner becomes an expert at building and fixing these crucial new instruments, a talent that wins him a place at a brutal academy for Hitler Youth, then a special assignment to track the resistance. More and more aware of the human cost of his intelligence, Werner travels through the heart of the war and, finally, into Saint-Malo, where his story and Marie- Laure's converge.
Doerr's "stunning sense of physical detail and gorgeous metaphors" ("San Francisco Chronicle") are dazzling. Deftly interweaving the lives of Marie-Laure and Werner, he illuminates the ways, against all odds, people try to be good to one another. Ten years in the writing, "All the Light We Cannot See" is a magnificent, deeply moving novel from a writer "whose sentences never fail to thrill" ("Los Angeles Times").