La Desaparición del Universo: La pura verdad sobre las ilusiones, las vidas pasadas, la religión, el sexo, la política y el milagro del perdón (Paperback)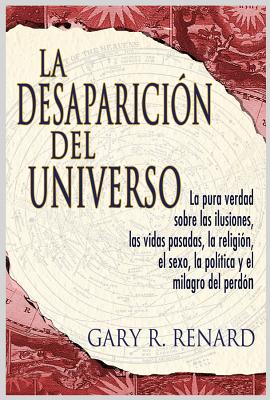 $21.95

Ships from warehouse to store in 3-5 business days
(PLEASE NOTE: This book cannot be returned!)
Description
---
What would you do if you were sitting quietly in your living room when a mysterious couple appeared from out of nowhere—and then told you they were "ascended masters" who had come to reveal some shocking secrets of existence and teach you the miraculous powers of advanced forgiveness?
When two such teachers appeared before Gary Renard in 1992, he chose to listen to them (and ask a lot of impertinent questions). The result is this startling book: an extraordinary record of 17 mind-bending conversations that took place over nearly a decade, reorienting the author's life and giving the world an uncompromising introduction to a spiritual teaching destined to change human history.
About the Author
---
In the early 1990s, Gary R. Renard underwent a powerful spiritual awakening. As instructed, he slowly and carefully wrote his first book, The Disappearance of the Universe, over a period of nine years. Gary has been described as one of the most interesting and courageous spiritual speakers in the world. Over the past several years, he has lectured throughout the U.S., Canada, Australia, England, and Costa Rica; and was the keynote speaker at the International A Course in Miracles Conference in Salt Lake City in 2005. He is also the author of Your Immortal Reality.