Organizing for the Rest of Us: 100 Realistic Strategies to Keep Any House Under Control (Hardcover)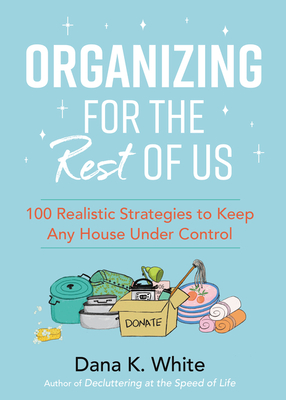 Staff Reviews
---
I don't usually read books - or blogs, or anything else - about cleaning, because it seems like it's a pretty straightforward task; what I need is motivation, not information, right? Wrong, apparently.
Organizing for the Rest of Us includes helpful mindset shifts, like embracing *better* instead of done, as well as specific tips, like timing how long it really takes you to empty the dishwasher (not as long as you think!).
— Kaley
Description
---
So you want to keep your kitchen counter clean but you aren't ready to toss the toaster? You want to be able to find your kids' socks but aren't looking to spend your 401(k) on clear bins? You long for a little more peace but minimalism isn't sparking joy? Discover 100 practical, do-able tips to organize, declutter and manage your home.
Traditional organizing advice never worked for decluttering expert and self-proclaimed recovering slob Dana K. White. Is it possible, she wondered, to get organized without color coding my sock drawer? As Dana let go of the need for perfection, she discovered the joy of having an organized house in the midst of everyday life. You can too
In Organizing for the Rest of Us, Dana teaches you how to make great strides without losing your mind in organizing every room of your home. You'll find her 100 easy-to-read organizing tips invaluable, including:
Why you need to get a grip on laundry and dishes before getting organized
The basics of organization for people who don't like to organize
Why changing how we think about clutter is the first step to getting rid of it
How living with less stuff is better for the environment, our spiritual lives, and our relationships
The simple yet life-changing tactic that is the container concept
Organizing for the Rest of Us includes colorful, practical photos, a presentation page, and a ribbon marker, making it a thoughtful and useful gift or self-purchase if you are:
Doing spring cleaning (or cleaning during any season)
Making New Year's resolutions
Downsizing your own home or your parents' home
Decluttering and organizing for your own peace of mind
Fans of Dana's popular podcast, A Slob Comes Clean, will treasure this book as a timeless (and frequently revisited) resource. With her humorous, lighthearted, easy-to-follow approach, Dana provides bite-size, workable solutions to break through every organizational struggle you have--for good
Look for additional, practical organizational resources from Dana:
Decluttering at the Speed of Life
How to Manage Your Home Without Losing Your Mind
Free Media Mail shipping on U.S. orders over $50