FREE Media Mail shipping on eligible items! We are open for browsing by appointment from 10am-7pm M-S and 10am-6pm Sundays. Email books@quailridgebooks.com for a reservation. Phones may not be answered due to high volume of calls.
Half of a Yellow Sun (Paperback)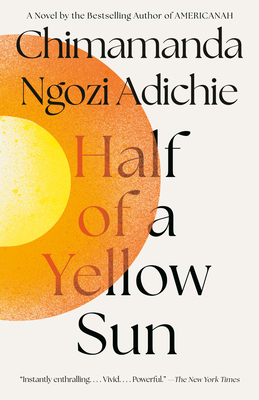 Fall '08/Winter '09 Reading Group List
---
"This powerful and dramatic story is set in Nigeria in the 1960s, against the hopes and disappointment of the struggle for a Biafran republic. Adichie balances the political turmoil with three compelling point-of-view characters. Lushly written and emotionally haunting, this book contributes new faces to our understanding of the human costs of race, class, and ethnic struggles in our world."
— Elli Meeropol, Odyssey Bookshop, South Hadley, MA
Description
---
A haunting story of love and war from the best-selling author of Americanah and We Should All Be Feminists.

With effortless grace, celebrated author Chimamanda Ngozi Adichie illuminates a seminal moment in modern African history: Biafra's impassioned struggle to establish an independent republic in southeastern Nigeria during the late 1960s. We experience this tumultuous decade alongside five unforgettable characters: Ugwu, a thirteen-year-old houseboy who works for Odenigbo, a university professor full of revolutionary zeal; Olanna, the professor's beautiful young mistress who has abandoned her life in Lagos for a dusty town and her lover's charm; and Richard, a shy young Englishman infatuated with Olanna's willful twin sister Kainene. Half of a Yellow Sun is a tremendously evocative novel of the promise, hope, and disappointment of the Biafran war.
About the Author
---
Chimamanda Ngozi Adichie grew up in Nigeria, where she attended medical school for two years at the University of Nigeria before coming to the United States. A 2003 O. Henry Prize winner, Adichie was shortlisted for the 2002 Caine Prize for African Writing. Her work has been selected by the Commonwealth Broadcasting Association and the BBC Short Story Awards, and has appeared in various literary publications, including Zoetrope and the Iowa Review. Her first novel, Purple Hibiscus, was shortlisted for the Orange Prize and the John Llewellyn Rhys Prize, and longlisted for the Booker. She now divides her time between the U.S. and Nigeria.
Praise For…
---
"A gorgeous, pitiless account of love, violence and betrayal during the Biafran war." —Time
"Instantly enthralling. . . . Vivid. . . . Powerful . . . A story whose characters live in a changing wartime atmosphere, doing their best to keep that atmosphere at bay." —The New York Times
"Ingenious. . . . [With] searching insight, compassion and an unexpected yet utterly appropriate touch of wit, Adichie has created an extraordinary book." —Los Angeles Times
"Brilliant. . . . Adichie entwines love and politics to a degree rarely achieved by novelists. . . . That is what great fiction does–it simultaneously devours and ennobles, and in its freely acknowledged invention comes to be truer than the facts upon which it is built." —Elle