The Greatest Words Ever Spoken: Everything Jesus Said About You, Your Life, and Everything Else (Thinline Ed.) (Paperback)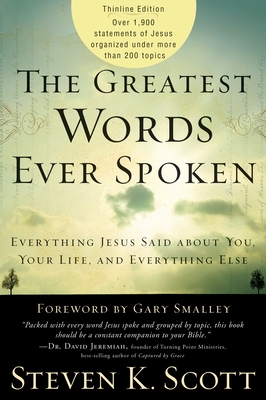 Description
---
Every Word of Jesus Right at Your Fingertips

Haven't you wished you could ask Jesus any question and get his immediate help with the biggest problems you face? Now you can.

For the first time ever, all of the statements Jesus made in the New Testament have been brought together and organized under more than 200 topics. When you want to know his will in a specific area of life, or you're seeking the answer to a perplexing question, or you are desperate for his encouragement, comfort, or wisdom–you can easily find the help you need.

The moment you turn to the appropriate topic heading, you will have access to the breadth of Jesus' teaching on that subject. You can also use this book as a guide for studying Jesus' wisdom on any topic of interest, such as prayer, forgiveness, eternity, anger, temptation, relationships, grace, or knowing God.

As you immerse yourself in Jesus' words, your life and relationships will be transformed, and your faith and spiritual passion will be renewed. Let the greatest words ever spoken bring new vision, power, and joy into your life–one statement at a time.
About the Author
---
Steven K. Scott is the best-selling author of The Richest Man Who Ever Lived, Mentored by a Millionaire, Simple Steps to Impossible Dreams, and A Millionaire's Notebook. After failing nine jobs in his first six years after college, he learned the laws of life success by studying the book of Proverbs. As a result, Scott and his business partners built more than a dozen multimillion-dollar companies from scratch, achieving billions of dollars in sales. He is the cofounder of The American Telecast Corporation, Total Gym Fitness, and Max International. Scott is a popular international speaker on the subjects of personal and professional achievement and the application of biblical wisdom to every area of life.
Free Media Mail shipping on U.S. orders over $75