Save Me the Plums: My Gourmet Memoir (Hardcover)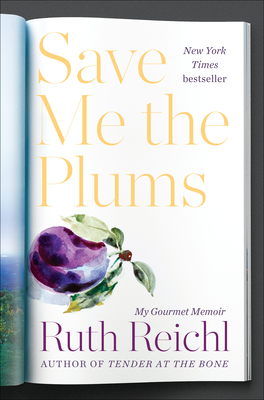 $27.00
Available from warehouse in 1-5 business days
Staff Reviews
---
Starting in 1998 with her honest and funny food memoir, Tender at the Bone, Ruth Reichl has written a number of delightful and delicious books on her life as a food critic and restaurant reviewer. When the self-styled Berkeley-hippie took the helm of Gourmet magazine she had to reconcile being a boss and riding in limos with being a mom and a courageous journalist. Her new memoir about that 10 year period, Save Me the Plums, shows that she managed to keep her courage and her empathy while turning out a beautiful, interesting and sometimes courageous magazine.
— Sarah
Reichl's voice is inviting and warm as she invites readers behind the scenes during her transition from restaurant reviewer and food writer to editor-in-chief of the prestigious Gourmet magazine. I enjoyed her candid insights into her initial questions about her suitability for this massive undertaking, as well as her later concerns about how Conde Nash and the search for advertising dollars began to change her into someone she didn't always like by the end of her tenure there.
The chapter covering September 11th made me cry.
Throughout, there are recipes.
— Ginger
There's no need to have ever been a Gourmet magazine reader in order to thoroughly enjoy Ruth Reichl's new book Save Me The Plums.  Here is a fun read that takes you behind the scenes in the Conde Nast publishing world, that thoughtfully considers the juggling act of career moms, that will touch your heart and will keep you turning the pages. I highly recommend this captivating new memoir chronicling Reichl's ten years as editor in chief for the once ground breaking, but now sadly defunct monthly. 
— Peggy
April 2019 Indie Next List
---
"In her new memoir, trendsetting food writer and editor Ruth Reichl writes lovingly of the full-blast creativity of her 10 years as editor-in-chief of Gourmet. By book's end, you'll miss the storied and groundbreaking magazine, but you'll be grateful she shared the tale of how its outstanding roster of writers, photographers, designers, and cooks transformed how we look at food. Reichl takes readers behind the scenes as chefs became rock stars, as writers like David Foster Wallace reshaped food writing, and as she fought to save the magazine she adored. A beloved writer with an enviable career, Reichl reminds us that although things may change, simple, honest pleasures — like a perfect plum — endure and make life rich."
— Mary Vermillion, Village Books, Bellingham, WA
Description
---
NEW YORK TIMES BESTSELLER • Trailblazing food writer and beloved restaurant critic Ruth Reichl took the job (and the risk) of a lifetime when she entered the high-stakes world of magazine publishing. Now, for the first time, she chronicles her groundbreaking tenure as editor in chief of Gourmet.

"A must for any food lover . . . Reichl is a warm, intimate writer. She peels back the curtain to a glamorous time of magazine-making. You'll tear through this memoir."—Refinery29 

NAMED ONE OF THE BEST BOOKS OF THE YEAR BY Real Simple • Good Housekeeping • Town & Country

When Condé Nast offered Ruth Reichl the top position at America's oldest epicurean magazine, she declined. She was a writer, not a manager, and had no inclination to be anyone's boss. Yet Reichl had been reading Gourmet since she was eight; it had inspired her career. How could she say no?

This is the story of a former Berkeley hippie entering the corporate world and worrying about losing her soul. It is the story of the moment restaurants became an important part of popular culture, a time when the rise of the farm-to-table movement changed, forever, the way we eat. Readers will meet legendary chefs like David Chang and Eric Ripert, idiosyncratic writers like David Foster Wallace, and a colorful group of editors and art directors who, under Reichl's leadership, transformed stately Gourmet into a cutting-edge publication. This was the golden age of print media—the last spendthrift gasp before the Internet turned the magazine world upside down.

Complete with recipes, Save Me the Plums is a personal journey of a woman coming to terms with being in charge and making a mark, following a passion and holding on to her dreams—even when she ends up in a place she never expected to be.

Praise for Save Me the Plums

"Poignant and hilarious . . . simply delicious . . . Each serving of magazine folklore is worth savoring. In fact, Reichl's story is juicier than a Peter Luger porterhouse. Dig in."—The New York Times Book Review

"In this smart, touching, and dishy memoir . . . Ruth Reichl recalls her years at the helm of Gourmet magazine with clear eyes, a sense of humor, and some very appealing recipes."—Town & Country 

"If you haven't picked up food writing queen Ruth Reichl's new book, Save Me the Plums, I highly recommend you fix that problem. . . . Reichl is in top form and ready to dish, with every chapter seeming like a dedicated behind-the-scenes documentary on its own."—Soleil Ho, San Francisco Chronicle
About the Author
---
Ruth Reichl is the bestselling author of the memoirs Tender at the Bone, Comfort Me with Apples, Garlic and Sapphires, and For You, Mom, Finally; the novel Delicious!; and, most recently, the cookbook My Kitchen Year. She was editor in chief of Gourmet magazine for ten years. Previously she was the restaurant critic for The New York Times and served as the food editor and restaurant critic for the Los Angeles Times. She has been honored with six James Beard Awards for her journalism, magazine feature writing, and criticism. She lives in upstate New York with her husband and two cats.
Praise For…
---
"A delicious insider account of the gritty, glamorous world of food culture."—Vanity Fair

"Intensely evocative . . . Reichl is one of the best food writers of our era."—Vox
 
"[Reichl's] voice remains one of the most trusted in our disparate food universe."—Bloomberg

"Save Me the Plums sweeps the reader up in the intoxicating splendor of Gourmet in its glory days, when the smart set was in it for the food, the friendship, and the big new ideas. This is the rare case of an amazing writer living an amazing life, with a book that's the party I never wanted to end."—Ann Patchett, #1 New York Times bestselling author of Commonwealth

"Save Me the Plums is Reichl's account of those halcyon times at Condé Nast before the ax fell. . . . It's a study in magazine-making, earnest ambition, disappointment, and reinvention. It's also supremely readable. . . . She's gathering up the reader in her pocket and taking them along for the ride."—The Boston Globe
 
"A lively, sweet-and-sour memoir . . . a fun-to-read romp through a time when glossy monthly magazines reigned supreme and when top editors ruled the magazines with royal privilege."—New York Post

"Ruth Reichl is the best sort of storyteller—intimate, wise, frank, and completely engaging. Here she beautifully details her ten years running Gourmet, with all the triumphs and tribulations, and it's a brilliant tale. Every page is rich and delicious; the book is such a treat!"—Susan Orlean, New York Times bestselling author of The Library Book

"No one writes about food like Ruth Reichl. She also happens to be a mesmerizing storyteller. I consider this book essential nourishment."—Nigella Lawson

"Reichl dishes up an enthralling account of the intrigue, obsession, and glamour that made Gourmet an institution. Save Me the Plums is a delectable behind-the-scenes journey through the food world and its rise to celebrity status."—Bianca Bosker, New York Times bestselling author of Cork Dork

"Endearing . . . Gourmet magazine readers will relish the behind-the-scenes peek at the workings of the magazine. . . . Reichl's revealing memoir is a deeply personal look at a food world on the brink of change."—Publishers Weekly (starred review)

"Fun . . . beguiling . . . an absolutely delightful reading experience."—Kirkus Reviews (starred review)
 
"Readers of her past memoirs will recognize Reichl's lighthearted but dedicated approach to her work [and] her big-hearted approach to the dinner table. . . . New readers will be equally delighted by Reichl's account of an influential magazine, its final days and the many moments that illustrate the ways food can bring people together."—BookPage (starred review)