Last Canto of the Dead (Hardcover)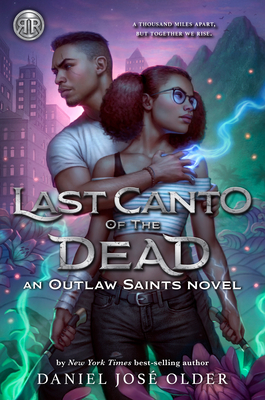 $18.99

Ships from warehouse to store in 3-6 business days
Description
---
Two gods-turned-teenagers wage simultaneous battles in the Caribbean and Brooklyn in this breathless sequel to BALLAD & DAGGER.
Healer. Destroyer. Creator. Mateo Matisse and Chela Hidalgo are not just two teenagers in love--they're powerful gods in human form. Powerful enough to have saved their Brooklyn diaspora community from the wrath of an ancient enemy and to have raised their once-sunken native island of San Madrigal from the sea.
But soon they discover that their problems are far from over. On the shores of San Madrigal, two creature armies are battling for survival. And on the streets of Brooklyn, a once tight-knit community is divided, with two sides at each other's throats. But worst of all, a heartbreaking prophecy rips these two young lovers apart, sending Mateo back to the city, where cops are now patrolling the streets, and keeping Chela tethered to the island, where chaos and death lurk around every corner.
Healer. Destroyer. Creator. As gods, their powers know no limits. But as teenagers--separated, desperate, grieving--what will become of them? And what will become of their people?
Join their battle and witness their love in this thrilling conclusion to the epic saga that began with BALLAD & DAGGER.Endorsed by Rick Riordan, author of Percy Jackson and the Olympians, soon to be a series on Disney+.
Look for these other titles by Daniel José Older:
Outlaw Saints Book 1: Ballad & Dagger
Star Wars: The High Republic: Race to Crashpoint Tower
Star Wars: The High Republic: Midnight Horizon
About the Author
---
Daniel José Older (he/him) is a New York Times best-selling author and story architect. He has published sixteen novels and numerous short stories and essays, and he is a regular comics writer for Star Wars: The High Republic Adventures and Marvel. He won the International Latino Book Award and has been a finalist for the Kirkus Prize, the Mythopoeic Award, the Locus Award, the Andre Norton Award, and the World Fantasy Award. You can find his thoughts on writing, read dispatches from his decade-long career as an NYC paramedic, and hear his music at http://danieljoseolder.net, @djolder on Twitter, @danieljose1 on Instagram, and @danieljoseolder on TikTok.
Praise For…
---
Two Brooklyn teenagers from the mysterious Caribbean island of San Madrigal face battles on different fronts. In an engrossing sequel that starts right where Ballad & Dagger (2022) left off, Mateo Matisse opens by reflecting on what Chela Hidalgo means to him. In the few short weeks they've grown close, and now there's nothing he wouldn't do to keep her safe. Their love and partnership encompass more than any ordinary adolescent love, however—they used to be powerful but formless spirits, but they have taken the forms of teenagers. Now that San Madrigal has reemerged from the sea, Mateo and Chela must figure out how their powers work, because new enemies are waiting for them, and the struggle to vanquish them and heal divisions in their community will test them. The contrast between their godlike natures and the limitations of inhabiting young human bodies is an element that is well balanced throughout the book, and it makes the protagonists both flawed and sympathetic. Each strength of the former book is present in this volume: the musicality, the effortless racial and ethnic diversity, the themes of anti-colonization, and, perhaps most important, Older's narrative choices. Mateo and Chela truly sound like teenagers in their alternating first-person point-of-view chapters, making it easy for readers to be immersed in their reality and root for them. A fierce and thrilling duology closer. (glossary) (Fantasy. 12-18)- Kirkus (Mar 1, 2023)

Gr 7 Up–In this novel that picks up where Ballad & Dagger left off, Mateo and Chela must figure out how their past as spirits connects to their godlike powers and the reemergence of San Madrigal Island from the sea. Being contained in human form makes it difficult to control their magic, and their struggles mirror a traditional coming-of-age story as they try to heal the divisions in their community from Ballad & Dagger. Mateo and Chela's romance is a strong subplot that manages to add layers to the worldbuilding and provide authentic teen voice to the narration. Anti-colonialism ­remains a primary theme in this book, which features the same diversity seen in its predecessor. VERDICT A satisfying and suspenseful end to the ­duology. ­Recommended for purchase.- SLJ (June 1, 2023)
We will be closing at 8pm on Friday, 9/22 due to severe weather.
Free Media Mail shipping on U.S. orders over $75