We will open at 11am on Friday, February 21.
The Isle of the Lost: The Graphic Novel (The Descendants Series) (Hardcover)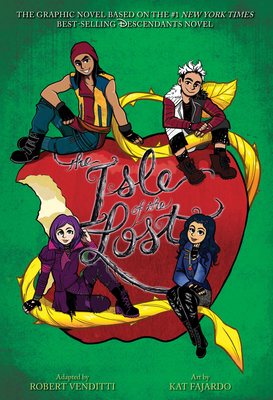 $21.99
Available from warehouse in 1-5 business days
Description
---
Book one in the #1 New York Times best-selling Descendants series--now in the wickedly fun, action-packed graphic novel!
Twenty years ago, all the evil villains were banished from the kingdom of Auradon to the Isle of the Lost--a dark and dreary place protected by a force field that makes it impossible for them to leave. Stripped of their magical powers, the villains now live in total isolation, forgotten by the world.

Mal learns from her mother, Maleficent, that the key to true darkness, the Dragon's Eye, is located inside her scepter in the forbidden fortress on the far side of the island. The eye is cursed, and whoever retrieves it will be knocked into a deep sleep for a thousand years. But Mal has a plan to capture it. She'll just need a little help from her "friends." In their quest for the Dragon's Eye, these four kids begin to realize that just because you come from an evil family tree, being good ain't so bad.
About the Author
---
Melissa de la Cruz is the best-selling author of many novels, including all three books in the Isle of the Lost series, as well as the books in the Blue Bloods series: Blue Bloods, Masquerade, Revelations, The Van Alen Legacy, Keys to the Repository, Misguided Angel, Bloody Valentine, Lost in Time, and Gates of Paradise. She lives in Los Angeles with her family. Find Melissa online at melissa-delacruz.com, on Twitter @melissadelacruz, and on Facebook and Instagram @authormelissadelacruz.
Kat Fajardo is an award-winning comic artist and illustrator based in NYC. A graduate of The School of Visual Arts, she's editor of La Raza Anthology and creator of Bandida Comics series. She's made work for Penguin Random House on The First Rule of Punk (written by Celia C. Pérez), CollegeHumor, and several anthologies. You can find her working at her Brooklyn studio creating playful and colorful work about self-acceptance and Latinx culture. Or drooling over puppies at a cafe.