More Than Peach (Bellen Woodard Original Picture Book) (Hardcover)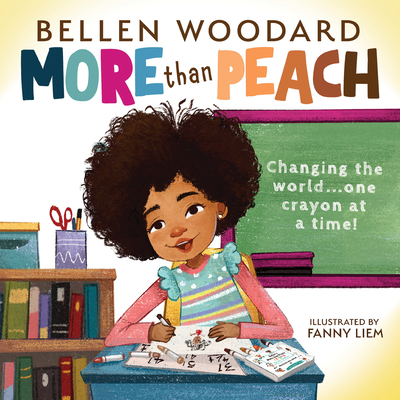 Description
---
Penned by the very first Crayon Activist, Bellen Woodard, this picture book will tug at readers' heartstrings and inspire them to make a difference!
When Bellen Woodard's classmates referred to "the skin-color" crayon, in a school and classroom she had always loved, she knew just how important it was that everyone understood that "skin can be any number of beautiful colors." This stunning picture book spreads Bellen's message of inclusivity, empowerment, and the importance of inspiring the next generation of leaders. Bellen created the More Than Peach Project and crayons with every single kid in mind to transform the crayon industry and grow the way we see our world. And Bellen has done just that!
This moving book includes back matter about becoming a leader and improving your community just like Bellen. Her wisdom and self- confidence are sure to encourage any young reader looking to use their voice to make even great spaces better!
About the Author
---
BELLEN WOODARD is the beloved trailblazer and CEO of Bellen's More than Peach Project®️. As the World's 1st Crayon Activist®️ and pioneer of "skin-color" crayons, Bellen has transformed an entire industry with a first-of-its-kind, innovative and inclusive project and art brand that have now become a global movement. She's received many notable awards and has been featured by Scholastic, TIME®, Nickelodeon, and many others. Now a middle schooler, Bellen embodies self-expression and discovery and enjoys traveling, dance, and spending time with family, friends, and her two beagles.
FANNY LIEM was born and raised in Indonesia. She's loved drawing since she was a child. Her passion for storytelling and illustration started the first time she grabbed picture books, which were gifted to her by her uncle. When she is not drawing, she enjoys watching movies and listening to country music.
Praise For…
---
A 2023 NCSS-CBC Notable Social Studies Trade Books List Finalist!
Free Media Mail shipping on U.S. orders over $75
"Ships from warehouse" books to be shipped: order by Wednesday, 12/6
"Ships from warehouse" books for pickup: order by Tuesday, 12/12