Not If I Save You First (Hardcover)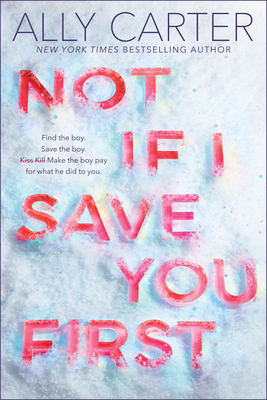 $18.99

Ships from warehouse to store in 3-6 business days
Staff Reviews
---
Ally Carter has done it again! I don't know how she manages to so perfectly balance a kick-ass teenage girl with just a pinch of over-the-top girliness, but she nails it every time. Basically this can be considered a contemporary retelling of The Paper Bag Princess, where the prince is the US President's son, the princess is the son's former best friend/daughter of the President's former body guard, and the dragon is a Russian operative. Oh and the setting is winter in Alaska. And because it's Ally Carter, while the girl clearly saves the day and rescues the boy, she also ends up with the boy because teenage love conquers all.
— Broche
Description
---
A heart-pounding story about a girl stranded in the middle of the Alaskan wilderness with the boy who wronged her... as an assassin moves in.Maddie thought she and Logan would be friends forever. But when your dad is a Secret Service agent and your best friend is the president's son, sometimes life has other plans. Before she knows it, Maddie's dad is dragging her to a cabin in the middle of the Alaskan wilderness.No phone.No Internet.And not a single word from Logan.Maddie tells herself it's okay. After all, she's the most popular girl for 20 miles in any direction. She has wood to cut and weapons to bedazzle. Her life is full.Until Logan shows up six years later . . .And Maddie wants to kill him. But before that can happen, an assailant appears out of nowhere, knocking Maddie off a cliff and dragging Logan to some unknown fate. Maddie knows she could turn back- and get help. But the weather is turning and the terrain will only get more treacherous, the animals more deadly. Maddie still really wants to kill Logan. But she has to save him first.
About the Author
---
Ally Carter is the New York Times bestselling author of the Gallagher Girls, Heist Society, and Embassy Row series. Not If I Save You First is her first stand-alone novel. Her books have been published all over the world, in over 20 languages. She grew up on a farm in Oklahoma and has never caused an international incident (to her knowledge). You can visit her online at allycarter.com.
Praise For…
---
Praise for All Fall Down (Embassy Row Book One):A New York Times Bestseller"Carter knows how to construct a gripping thriller." -- Publishers Weekly"Action packed and meticulously plotted, All Fall Down keeps readers guessing." -- Booklist"With its intrigue and clever plot twists, this series opener will leave readers hungering for more." -- School Library Journal"Will appeal not only to psychological-thriller fans, but to those who want a little glamour, some A-list social politics, and a bit of high school nastiness mixed in with their suspense." -- Kirkus Reviews"Grace is a fighter, and she will stop at nothing to find out what happened to her mother. Readers will love this first book in what promises to be an exciting, thrilling mystery series." -- Voice of Youth Advocates"An amazing book." -- The Guardian

Praise for All Fall Down (Embassy Row Book One):A New York Times Bestseller"Carter knows how to construct a gripping thriller." -- Publishers Weekly"Action packed and meticulously plotted, All Fall Down keeps readers guessing." -- Booklist"With its intrigue and clever plot twists, this series opener will leave readers hungering for more." -- School Library Journal"Will appeal not only to psychological-thriller fans, but to those who want a little glamour, some A-list social politics, and a bit of high school nastiness mixed in with their suspense." -- Kirkus Reviews"Grace is a fighter, and she will stop at nothing to find out what happened to her mother. Readers will love this first book in what promises to be an exciting, thrilling mystery series." -- Voice of Youth Advocates"An amazing book." -- The Guardian
Free Media Mail shipping on U.S. orders over $50