The Witch Boy: A Graphic Novel (The Witch Boy Trilogy #1) (Paperback)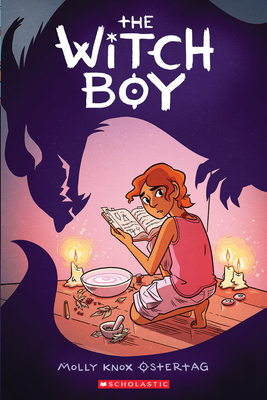 Staff Reviews
---
In a family of all-girl witches and all-boy shapeshifters, Aster wants to be a witch. But boys aren't witches, so can he really become one? Then something starts kidnapping the shifters, and Aster may be the only one who can stop it.
From the moment I started reading, I fell completely in love with The Witch Boy's story and characters. It's a powerful look at gender roles, friendship, representation, belonging, and being who you are rather than what others think you should be. A wonderful story with strong and important messages, and I loved every page.
For all the witch boys and shifter girls out there — you can do it!
— Elisabeth
Description
---
From the illustrator of the web comic Strong Female Protagonist comes a debut middle-grade graphic novel about family, identity, courage -- and magic.In thirteen-year-old Aster's family, all the girls are raised to be witches, while boys grow up to be shapeshifters. Anyone who dares cross those lines is exiled. Unfortunately for Aster, he still hasn't shifted . . . and he's still fascinated by witchery, no matter how forbidden it might be.When a mysterious danger threatens the other boys, Aster knows he can help -- as a witch. It will take the encouragement of a new friend, the non-magical and non-conforming Charlie, to convince Aster to try practicing his skills. And it will require even more courage to save his family . . . and be truly himself.
About the Author
---
Molly Knox Ostertag is the New York Times bestselling author and illustrator of the acclaimed Witch Boy trilogy: The Witch Boy, The Hidden Witch, and The Midwinter Witch, as well as a writer for animation. A graduate of the School of Visual Arts, Molly was featured in the Forbes 30 Under 30: Media list in 2020. She lives in Los Angeles with her wife, two cats, and a very cuddly dog. You can visit her online at mollyostertag.com.
Praise For…
---
"With charming artwork, interesting supporting characters, natural-feeling diversity, and peeks of a richly developed world, this book leaves readers wishing for more." – Kirkus Reviews, starred review"Ostertag's bright, gentle, cartoonlike artwork brims with life and adds extra appeal to this fast-moving story. An excellent choice for reluctant readers, fans of fantasy, and those looking for books that explore gender roles." – School Library Journal, starred review"Thrilling and sweet. Ostertag is one of comics' brightest new voices." – Hope Larson, author of Compass South"Ostertag is creating worlds and witches for the modern young reader." – Lucy Knisley, author of Something New and Relish"Dazzling . . . a contemporary fantasy for anyone who's struggled with defining themselves." – Marika McCoola, author of theNew York Times bestselling Baba Yaga's Assistant

"With charming artwork, interesting supporting characters, natural-feeling diversity, and peeks of a richly developed world, this book leaves readers wishing for more." – Kirkus Reviews, starred review"Ostertag's bright, gentle, cartoonlike artwork brims with life and adds extra appeal to this fast-moving story. An excellent choice for reluctant readers, fans of fantasy, and those looking for books that explore gender roles." – School Library Journal, starred review"Thrilling and sweet. Ostertag is one of comics' brightest new voices." – Hope Larson, author of Compass South"Ostertag is creating worlds and witches for the modern young reader." – Lucy Knisley, author of Something New and Relish"Dazzling . . . a contemporary fantasy for anyone who's struggled with defining themselves." – Marika McCoola, author of theNew York Times bestselling Baba Yaga's Assistant