Legion: The Many Lives of Stephen Leeds (Paperback)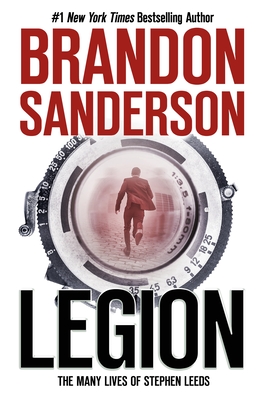 $19.99

Ships from warehouse to store in 3-6 business days
Description
---
From #1 New York Times bestselling author Brandon Sanderson comes a thriller that will make you question reality.

Like Sherlock Holmes or Wednesday Addams, the best detectives always have their quirks…

A genius of unrivaled aptitude, Stephen Leeds can learn any new skill, vocation, or art in a matter of hours. To contain and make use of all of this, his mind creates hallucinatory people who Stephen calls aspects. Wherever he goes, a team of imaginary experts help him solve problems—for a price.

As the aspects start taking on lives of their own, Stephen is hired to recover a camera that can take pictures of the past. Now he finds himself in a race against time and crossing continents to discover the truth about his aspects…and the lies he tells himself.

Legion: The Many Lives of Stephen Leeds includes the novellas Legion, Legion: Skin Deep, and the finale to Stephen Leeds' story, Lies of the Beholder.

"Readers will get drawn into the fascinating world of Stephen and his friends—real and imagined—as they work together to solve the seemingly unsolvable."
—Publishers Weekly

"This quick, entertaining read has the pulse of a thriller and the hook of a fascinating hero balancing on the edge of psychosis."
—Library Journal
About the Author
---
Brandon Sanderson grew up in Lincoln, Nebraska. He lives in Utah with his wife and children and teaches creative writing at Brigham Young University. His bestsellers have sold 30 million copies worldwide and include the Mistborn® Trilogy and its sequels; the Stormlight Archive novels; and other novels, including The Rithmatist, Steelheart, and Skyward. He won a Hugo Award for for The Emperor's Soul, a novella set in the world of his acclaimed first novel, Elantris. Additionally, he was chosen to complete Robert Jordan's Wheel of Time® sequence. Visit his website for behind-the-scenes information on all his books.
Praise For…
---
Praise for Legion: The Many Lives of Stephen Leeds

"Legion is a wonderfully clever, compelling story with a brilliant ensemble of characters that just won't leave you alone." —Suzanne Palmer, Hugo Award-winning author of The Secret Life of Bots

"Brandon Sanderson's Legion is a marvelously entertaining collection of linked stories, that build on each other to a fascinating conclusion. Stories that are so much fun, you almost need your own bunch of alternate personalities to appreciate them." —Simon R. Green, New York Times-bestselling author of Night Fall

"Sanderson's contemporary fantasy is populated with superb characterizations (as evidenced by the multiple depictions of Legion's aspects) and is surprisingly thought-provoking." —Kirkus

"Readers will get drawn into the fascinating world of Stephen and his friends—real and imagined—as they work together to solve the seemingly unsolvable." —Publishers Weekly
We will be closing at 8pm on Friday, 9/22 due to severe weather.
Free Media Mail shipping on U.S. orders over $75