Being Henry: The Fonz . . . and Beyond (Hardcover)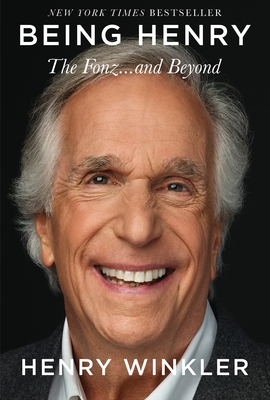 Staff Reviews
---
Ayyyyyyyyyy!  If you don't recognize that tag line, then you haven't watched TV for the last 50 years. Yes, I'm talking about "the Fonz".  I (along with most of the rest of the world) loved that guy.  Until recently, I never really considered the actor who created such a memorable character. The new autobiography by Henry Winkler, "Being Henry" changed that.
Unashamedly and unafraid, Winkler tells the story of his life-long lack of confidence in himself.  It took a long career as an actor, the discovery that his decidedly sub-par performance in school was the result of un-diagnosed dyslexia, and not a little therapy to get him to the point where he was comfortable with his life. After having read of his troubles, it is even more amazing that a supremely confident Arthur Fonzarelli could spring from the psyche of Henry Winkler. 
— Bill
November 2023 Indie Next List
---
"I adore Henry Winkler. Loved him as The Fonz, love his books for dyslexic readers, and I have loved his other roles. I'll probably never get to sit in a diner booth as Henry talks about his life over a cup of coffee. Being Henry is the next best thing."
— Mary O'Malley, Skylark Bookshop, Columbia, MO
Description
---
Instant New York Times Bestseller!

From Emmy-award winning actor, author, comedian, producer, and director Henry Winkler, a deeply thoughtful memoir of the lifelong effects of stardom and the struggle to become whole.

Henry Winkler, launched into prominence as "The Fonz" in the beloved Happy Days, has transcended the role that made him who he is. Brilliant, funny, and widely-regarded as the nicest man in Hollywood (though he would be the first to tell you that it's simply not the case, he's really just grateful to be here), Henry shares in this achingly vulnerable memoir the disheartening truth of his childhood, the difficulties of a life with severe dyslexia, the pressures of a role that takes on a life of its own, and the path forward once your wildest dream seems behind you.

Since the glorious era of Happy Days fame, Henry has endeared himself to a new generation with roles in such adored shows as Arrested Development, Parks and Recreation, and Barry, where he's been revealed as an actor with immense depth and pathos, a departure from the period of his life when he was so distinctly typecast as The Fonz, he could hardly find work.

Filled with profound heart, charm, and self-deprecating humor, Being Henry is a memoir about so much more than a life in Hollywood and the curse of stardom. It is a meaningful testament to the power of sharing truth and kindness and of finding fulfillment within yourself.
About the Author
---
In 2023, Henry Winkler celebrates 50 years of success in Hollywood and continues to be in demand as an actor, producer, and director. He co-stars as acting teacher Gene Cousineau on the hit HBO dark comedy, Barry. For this role, he won his first Primetime Emmy Award in 2018 for Best Supporting Actor in a Comedy as well as two Television Critics Choice Awards for Best Supporting Actor in a Comedy Series. A graduate of the Yale School of Drama, he was cast in 1973 in the iconic role of Arthur Fonzarelli, aka "The Fonz," in the TV series Happy Days. During his 10 years on the popular sitcom, he won two Golden Globe Awards, was nominated three times for an Emmy Award and was also honored with a star on the Hollywood Walk of Fame. In recent years, Winkler appeared in a number of series, including Medical Police, Arrested Development, Children's Hospital, Royal Pains, New Girl, and Parks and Recreation. He is the New York Times bestselling author of numerous children's books, including Alien Superstar, A Trilogy and Hank Zipzer the World's Greatest Under-Achiever, a 28-book series inspired by Winkler's own struggle with learning challenges. Of all the titles he has received, the ones he relishes most are husband, father and grandfather. Winkler and his wife, Stacey, have three children, Jed, Zoe and Max, and six grandchildren. They reside in Los Angeles with their two dogs.
Praise For…
---
"Smart and entertaining."
–The New York Times

"[An] inspirational story of one of Hollywood's most beloved figures who became an unlikely TV screen icon and later a champion for those with dyslexia."
—The Associated Press

"You want to brew him some tea, pat his arm. His tender memoir isn't explicitly dishy. It's an excavation of his challenges, pain and neuroses."
—The Washington Post

"More than anything, Being Henry is the story of a talented actor who, as his wife puts it, can "charm the pants" off of anyone…It's about the struggle to come into oneself after decades of self-alienation, and about perseverance."
—The Daily Beast

"This charming autobiography of personal struggles during times of career success and challenge deserves a big thumbs-up."
—Kirkus

"[A] winning memoir...Though Winkler includes plenty of inside-Hollywood fare, the book's frankness sets it apart from standard-issue actor memoirs. The result is a heartfelt chronicle of learning to love one's self, shortcomings and all."
—Publishers Weekly

"Sharing memorable and funny behind-the-scenes moments, Being
Henry entertains as an introspective, self-deprecating, and quite moving memoir from a versatile actor....The many, many fans Winkler has gathered over his 50 years in Hollywood won't be disappointed by this charming memoir."
—Booklist
Free Media Mail shipping on U.S. orders over $75