Red Rabbit (Hardcover)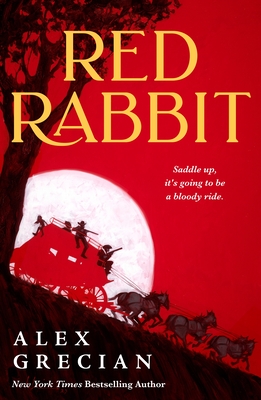 Staff Reviews
---
This is a paranormal western horror. Yes, all of those things. And it's fun. We follow an unlikely group including two vagabond cowboys, a witch hunter, a mysterious orphan, and a widowed schoolteacher as they make their way to Burden County to collect a bounty for Sadie Grace, witch. On their way they encounter ghosts, demons, serial killers, and assorted other obstacles, which may or may not have been laid out by Sadie Grace herself. Red Rabbit is smart, adventurous, creepy, and often quite funny. This has opened my eyes to a new genre I may have previously overlooked.
— Tee
A ragtag bunch of weirdos - an old witch hunter, a couple of cowboys, a widowed schoolteacher, and a child who doesn't speak - sets out to collect the bounty on a witch's head. Along the way, they encounter friends and enemies both natural and supernatural. The witch herself doesn't fit neatly into either category...
This story meanders in the best way, roping in too many characters to count and disposing of them as needed. It is often disturbing, occasionally provokes a laugh, and tends toward melancholy. I blew through the second half in one sitting, unwilling to put it down.
— Kaley
Description
---
"Impossible to put down." —Kelly Link, author of Pulitzer Prize finalist Get In Trouble

A ragtag posse must hunt down a witch through a wild west beset by demons and ghosts—where death is always just around the bend—in this new supernatural horror by bestselling author Alex Grecian.

Sadie Grace is wanted for witchcraft, dead (or alive). And every hired gun in Kansas is out to collect the bounty on her head, including bona fide witch hunter Old Tom and his mysterious, mute ward, Rabbit.

On the road to Burden County, they're joined by two vagabond cowboys with a strong sense of adventure – but no sense of purpose – and a recently widowed schoolteacher with nothing left to lose. As their posse grows, so too does the danger.

Racing along the drought-stricken plains in a stolen red stagecoach, they encounter monsters more wicked than witches lurking along the dusty trail. But the crew is determined to get that bounty, or die trying.

Written with the devilish cadence of Stephen Graham Jones and the pulse-pounding brutality of Nick Cutter, Red Rabbit is an epic adventure of luck and misfortune.

"Echoing True Grit, RED RABBIT is a riotous, Boschian, gun-slinging marvel." —Laird Hunt, author of In the House in the Dark of the Woods
About the Author
---
ALEX GRECIAN is the New York Times bestselling author of The Scotland Yard's Murder Squad series: The Yard and its sequels The Black Country, The Devil's Workshop, The Harvest Man, and Lost and Gone Forever; as well as the contemporary thriller The Saint of Wolves and Butchers, and the ebook The Blue Girl. He has also written multiple award-winning graphic novels, including Proof, and Rasputin.
Praise For…
---
"This is a book I'm going to be pressing into the hands of every reader I know. It's an epic, sometimes brutal, sometimes tender, but always surprising gallop of a book, populated by characters I found myself caring deeply about. Red Rabbit was impossible to put down." —Kelly Link, author of Pulitzer Prize finalist Get In Trouble

"Echoing True Grit, The Good Lord Bird, and any number of classic tales of terror, Alex Grecian's RED RABBIT is a riotous, Boschian, gun-slinging marvel." —Laird Hunt, author of In the House in the Dark of the Woods

"Red Rabbit builds a hearty fire and invites you to sit a spell. A surprising story of witch hunters then unfolds, told in the plainspoken poetry of Larry McMurtry, with a dash of cockeyed whimsy. An invigorating – and entirely moving – tale of the American West." —Andy Davidson, author of The Hollow Kind

"Red Rabbit is a completely immersive experience. With a perfect blend of weirdness, carnage, and unlikely friendships, this is an absolute riot of a book." —Tor.com

"Red Rabbit is one hell of a rollicking, bloody stagecoach ride across the American West of old. With monsters, mayhem and magic aplenty, this is a journey that burrows deep under your skin and stays there." —Matthew Lyons, author of A Black and Endless Sky

"Eerie, exhilarating and endearing, Red Rabbit paints the old American West red and wicked, but also creates a world that the bold and curious will love to explore, provided you're handy with a hex and a six-shooter." —Johnny Compton, author of The Spite House

"Alex Grecian has crafted a winding river of a tale that is fast-paced, intricately patterned, funny, and scary all in equal measure. It's a wild ride and I enjoyed every page." —Shaun Hamill, author of A Cosmology of Monsters

"A witch, a demon, a shapeshifter, ghosts, and cannibals are just some of the characters whose exploits enliven this sprawling, picaresque post–Civil War weird western from Grecian." —Publishers Weekly
Free Media Mail shipping on U.S. orders over $75