Camp Damascus (Hardcover)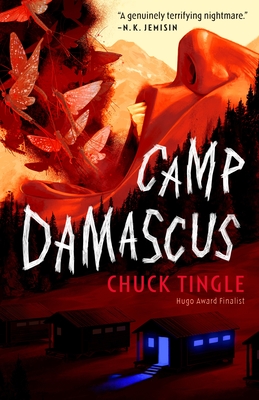 $25.99

Coming soon - PRE-ORDER NOW!
Staff Reviews
---
Pre-order Camp Damascus and submit your receipt here by 7.17.23 to receive a bandana designed by Shing Yin Khor!
— From
Featured Sci-Fi/Fantasy Preorders
Description
---
"A joyful, furious romp through dark places, Tingle proves he's as good at fear as he is at love." ―T. Kingfisher, bestselling author of What Moves the Dead

From beloved internet icon Chuck Tingle, Camp Damascus is a searing and earnest horror debut about the demons the queer community face in America, the price of keeping secrets, and finding the courage to burn it all down.

Welcome to Neverton, Montana: home to a God-fearing community with a heart of gold.

Nestled high up in the mountains is Camp Damascus, the self-proclaimed "most effective" gay conversion camp in the country. Here, a life free from sin awaits. But the secret behind that success is anything but holy.

And they'll scare you straight to hell.
About the Author
---
CHUCK TINGLE is a mysterious force of energy behind sunglasses and a pink mask. He is also an anonymous author of romance, horror, and fantasy. Chuck was born in Home of Truth, Utah, and now splits time between Billings, Montana and Los Angeles, California. Chuck writes to prove love is real, because love is the most important tool we have when resisting the endless cosmic void. Not everything people say about Chuck is true, but the important parts are.
Praise For…
---
"A genuinely terrifying nightmare – but it ain't the monsters you gotta be afraid of. Chuck Tingle is absolutely the best guide through this level of Hell." —N.K. Jemisin, New York Times bestselling author

"Chuck Tingle continues to surprise and thrill. Camp Damascus is terrifying, darkly funny, and engagingly humane." —John Scalzi, New York Times bestselling author

"A joyful, furious romp through dark places, Tingle proves he's as good at fear as he is at love." —T. Kingfisher, bestselling author of What Moves the Dead

"This chilling page-turner should win Tingle a slew of new fans." —Publishers Weekly

"Camp Damascus is a hell of a ride. Tingle is right at home in the horror genre - he delivers all the thrills of a slasher while exploring the deep wounds that can be inflicted by broken systems. This book is worth your time." —Sarah Gailey, author of Just Like Home

"Intelligent, cleverly written, and subversive. A strong and brilliant story of identity, love, sincerity, and personal triumphs even when things get dark." —R.R. Virdi, USA Today bestselling author of The First Binding

"This book is for anyone who thought they were going to hell for being themselves. Chuck Tingle takes that fear and weaves it into a seamless horror that will keep you up at night, not only because it's got monsters but because we've known those monsters. And yet it still proves love is real. Camp Damascus is a big hug to all of us who had to fight to find each other." —J.R. Dawson, author of The First Bright Thing

"Thrilling, engrossing, surprising, and ultimately uplifting. I loved it. Tingle blends horror and sincerity and makes it look easy, producing a mystery of betrayal and righteous justice that you won't forget." —Ryan North, New York Times bestselling & Eisner-winning author

"Jaw-dropping...both frightening and utterly cathartic. A queer nightmare of demonic proportions!" —Mark Oshiro, author of Anger is a Gift
We will be open on Memorial Day from 10 AM until 6 PM.
Free Media Mail shipping on U.S. orders over $50