The Imitation of Christ: The Complete Original Edition (The Essential Wisdom Library) (Paperback)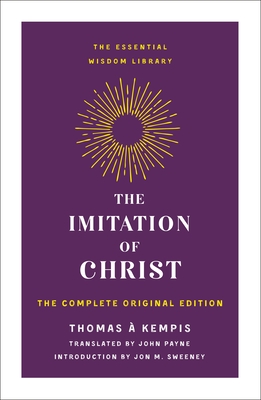 Description
---
Thomas à Kempis's The Imitation of Christ is a timeless devotional guide calling readers to a Christlike life, featuring an introduction by Jon M. Sweeney.

One of the most beloved Christian devotionals, The Imitation of Christ was originally written in Latin during the fifteenth century and inspired countless readers to deepen their faith and build a stronger relationship with Christ. Kempis was focused on the contemplative, inner life and his work has been a trusted guide for generations of Christians in their own walks of faith.

In the first two sections of the book, Kempis reflects on the spiritual and interior life, offering wisdom for those seeking to begin their own journey of reflection and contemplation. The final section of the book focuses on two imagined dialogues between Jesus and an unnamed disciple, which illuminate the totality of God's love and grace.

The Imitation of Christ is part of the Essential Wisdom Library, a series of books that seeks to bring spiritual wisdom—both modern and ancient—to today's readers. This new edition of the classic text is a must read for seekers and believers alike.
About the Author
---
Thomas à Kempis was canon regular who lived during the 15th century. He is the author of The Imitation of Christ, one of the most well-known and beloved Christian devotionals.

JON M. SWEENEY is an independent scholar and an award-winning writer. He is a biographer of St. Francis of Assisi and translator of his writings, and his books on Franciscan subjects have sold more than two hundred thousand copies. Jon is the author of more than forty books, including The Pope Who Quit, which was optioned by HBO. He edits the magazine Living City, and is religion editor/associate publisher of Monkfish Publishing in Rhinebeck, NY. He's appeared on CBS Saturday Morning and numerous other programs, and writes regularly for America magazine in the US, and The Tablet in the UK. Jon is married to Rabbi Michal Woll; their interfaith marriage has been profiled in national media. He's the father of four, and lives in Milwaukee.
Free Media Mail shipping on U.S. orders over $75