Rubicon (Paperback)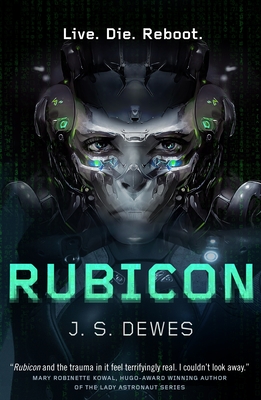 $19.99

Coming soon - PRE-ORDER NOW!
Staff Reviews
---
Like Dewes's earlier novels, The Last Watch and The Exiled Fleet, Rubicon is fantastically character-focused military sci-fi. Adriene is flawed but brave, anxious but giving her all. It's so rewarding to witness her developing relationships with her squad members, with the awkward but friendly chief systems engineer, with her Rubicon, and with herself. Readers who, like me, loved Rake and Cav (and all the supporting characters) will also love Adriene, Daroga, et al.
But for that very reason, this book left me feeling haunted. The raw trauma the characters endure is brightened by moments of healing, of friendship, and of empathy; brightened, but not overshadowed. This book is as much about grief as it is about loyalty. There is pain, disillusionment, and bitter regret. And the ending will stick with you.
— Kaley
Description
---
J. S. Dewes, author of The Last Watch and The Exiled Fleet, returns with another science fiction space opera, Rubicon, that melds elements of Scalzi's Old Man's War with Edge of Tomorrow.

Sergeant Adriene Valero wants to die.

She can't.

After enduring a traumatic resurrection for the ninety-sixth time, Valero is reassigned to a special forces unit and outfitted with a cutting-edge virtual intelligence aid. They could turn the tide in the war against intelligent machines dedicated to the assimilation, or destruction, of humanity.

When her VI suddenly achieves sentience, Valero is drawn into the machinations of an enigmatic major who's hell-bent on ending the war—by any means necessary.

The Divide series
The Last Watch
The Exiled Fleet
About the Author
---
After graduating with a degree in film production, J. S. DEWES went on to serve as cinematographer for independent films, write, produce, and shoot a zombie musical, slay internet dragons, and act as lighting designer for presidents and presidential-hopefuls so many times it became mundane. To add to her list of random career paths, she unlocked the Dream Job achievement and now writes for triple-A science fiction video games.

She is the author of the Divide series (The Last Watch, The Exiled Fleet) and Rubicon

Jenny spends her free time drawing, gaming, scrolling ArtStation, cuddling her two sweet dogs and mercurial cat, and occasionally sleeping.
Praise For…
---
Praise for Rubicon

"Rubicon and the trauma in it feel terrifyingly real. I couldn't look away."—Mary Robinette Kowal, Hugo-award winning author of the Lady Astronaut series

"Rubicon blew me away. Concept, characters, story, I loved it all. I can't wait to see where J.S. Dewes takes this world next!"—Nalini Singh, New York Times Bestselling author of the Psy-Changeling and Guild Hunter series

"Rubicon is non-stop military SF action with plenty of twists. I couldn't put it down. J.S. Dewes has entered the military SF arena and firmly planted her flag as one of the best in the business today. "—Michael Mammay, author of The Misfit Soldier

"A high-octane blend of fast action, fun characters, and deep questions. In Rubicon, not even death can set you free."—Megan O'Keefe, author of the Protectorate series

"Departing from her Divide series, Dewes offers a twist on the movie Edge of Tomorrow, with a strong heroine and exciting battle scenes."—Booklist

"A fresh and forward-looking story about the costs of "forever" wars and the existential anxiety of artificial intelligence. ... Many recent novels are also grappling with the ethics of AI, and Dewes's novel shines in the field. Witty and readable, it features an endearing cast of characters and fast-paced action and will have broad appeal to fans of sci-fi beyond its MilSF genre."—Library Journal

"Dewes (the Divide series) continues to demonstrate a gift for superior hard sci-fi with a standalone outing that is simultaneously thoughtful and pulse-pounding. ... Fans of smart military sci-fi will be riveted."—Publishers Weekly


Praise for The Exiled Fleet

"Well-crafted intrigue, tense battles, and a lot of heart make for a page-turning adventure on the way to a conclusion that will leave fans anxiously awaiting the next installment."—Publishers Weekly, (starred review)

"Dewes's follow up to The Last Watch keeps the action front and center, while presenting an expansive science fiction story that is both richly complex and accessible."—Library Journal

"Screenwriter Dewes knows how to twist her story in unexpected directions and pull her well-drawn characters out of impossible situations." —Booklist

Praise for The Last Watch

"One of the most stunning sci-fi series debuts of recent years. Fans of the genre—and particularly those already mourning the end of The Expanse series later this year—don't want to miss out on this nail-biting space epic."—Vulture

"Dewes's debut is an exciting, fast-paced ride around the edges of the universe, where those rejected by much of humanity are the only ones who can save it. Fans of K. B. Wagers's 'Farian Wars' series and John Scalzi's Old Man's War will welcome this military science fiction thriller." —Library Journal, starred review

"The Last Watch is a bravura debut that blends great action with compelling characters, lighting up this new series like a dark matter generator." —Booklist

"Gripping space opera debut." —Publishers Weekly

"The Last Watch is my pick for science fiction debut of the year. Dewes has written a masterwork space opera that needs to be on bookshelves world-wide. Epic, character-driven sci-fi goodness that is the cure for your Expanse hangover."—FanFi Addict

"A high-energy thrill ride at the edge of space featuring a crew of miscreants racing against time aboard an ancient spaceship. A great concept with an even better execution, this is a sci-fi space opera for readers looking to dial up the excitement."—Bookpage (starred review)
Free Media Mail shipping on U.S. orders over $50