The New Breed: What Our History with Animals Reveals about Our Future with Robots (Paperback)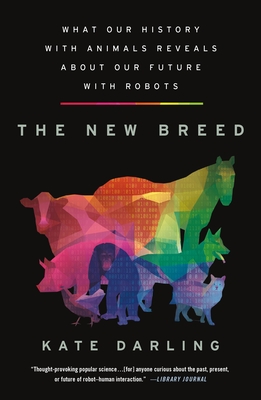 $19.99

Ships from warehouse to store in 3-6 business days
Description
---
For readers of The Second Machine Age or The Soul of an Octopus, a bold, exciting exploration of how building diverse kinds of relationships with robots—inspired by how we interact with animals—could be the key to making our future with robot technology work

There has been a lot of ink devoted to discussions of how robots will replace us and take our jobs. But MIT Media Lab researcher and technology policy expert Kate Darling argues just the opposite, suggesting that treating robots with a bit of humanity, more like the way we treat animals, will actually serve us better. From a social, legal, and ethical perspective, she shows that our current ways of thinking don't leave room for the robot technology that is soon to become part of our everyday routines. Robots are likely to supplement—rather than replace—our own skills and relationships. So if we consider our history of incorporating animals into our work, transportation, military, and even families, we actually have a solid basis for how to contend with this future.

A deeply original analysis of our technological future and the ethical dilemmas that await us, The New Breed explains how the treatment of machines can reveal a new understanding of our own history, our own systems, and how we relate—not just to nonhumans, but also to one another.
About the Author
---
Dr. Kate Darling is a leading expert in robot ethics and policy. She's a researcher at the Massachusetts Institute of Technology Media Lab, a former fellow at the Harvard Berkman Klein Center for Internet & Society, and the Yale Information Society Project. Darling's work has been featured by the New Yorker, the Guardian, PBS, the Boston Globe, Wired, Slate, NPR, and more.
Praise For…
---
A New Scientist Best Book of 2021

"Well-researched, well-developed, and well-written, Darling's innovative proposal—to use our history of human-animal interactions as a blueprint for the future of human-robot interactions—is a must read for anyone interested in the emerging ethics of robotics. The New Breed raises serious questions and provides some intriguing answers."
—Irene M. Pepperberg, PhD; Associate Professor at Harvard and author of the New York Times bestseller Alex & Me

"In this extraordinary and wide-ranging book, Kate Darling fundamentally reframes how we should understand these new forces within our life. From their effect upon the nature of work, to their critical role in the emotional life of many, robots will matter much as animals have mattered. Indeed, when we examine the role of design, Darling's perspective helps us see how they will matter much more."
—Lawrence Lessig, Roy L. Furman Professor of Law and Leadership, Harvard Law School

"Inspired by how humans have partnered with animals throughout history, Darling, a robot nerd who calls her toddler 'Babybot', explores the fascinating emotional connection we have with our robots and makes a compelling case for a bright future where robots are our collaborators and companions."
—Dr. Rana el Kaliouby, scientist and entrepreneur and author of Girl Decoded

"The New Breed is a riveting and engaging book, full of wit and wisdom. It goes beyond the tired tropes of utopia and dystopia, and presents a nuanced and smart take on our relationships to robots."
—Bruce Schneier, author of Click Here to Kill Everybody: Security and Survival in a Hyperconnected World

"Endless ink has been spilled on AI and our robot future. Just when it seems there's nothing left to be said, along comes Kate Darling's book. For the first time, it seems we're having the conversation we ought to be having."
—Tim O'Reilly, Founder and CEO, O'Reilly Media

"[An] original, humane book."
—Nature

"The New Breed offers readers an energetic and witty overview of how our relations with animals can deliver useful insights into how robots might be incorporated into human society…By examining the past and present of our relationships with animals, [Darling] shows how we might learn lessons that will help us shape our technological future for the better."
—Science

"[Darling's] timely book urges us to focus on the legal, ethical and social issues regarding consumer robotics to make sure the robotic future works well for all of us."
—New Scientist

"Darling engagingly examines robots and their uses in relation to our interactions with animals—and not just pets, but also working animals such as donkeys and horses…[S]he provides a useful addition to a body of literature that is growing at a rapid pace. A provocative work of ethics that may prove altogether timely given the state of the technology."
—Kirkus Reviews

"[Darling] lays out in detail the vexing issues—robot rights, robot accountability, our fears of a robot takeover, our deep-seated anthropomorphism that leads to surprising attachments to these machines…a thoughtful, constructive starting point."
—Booklist

"Thought-provoking popular science that will be of interest to anyone curious about the past, present, or future of robot–human interaction."
—Library Journal
Free Media Mail shipping on U.S. orders over $75
"Ships from warehouse" books to be shipped: order by Wednesday, 12/6
"Ships from warehouse" books for pickup: order by Tuesday, 12/12