Jane Against the World: Roe v. Wade and the Fight for Reproductive Rights (Paperback)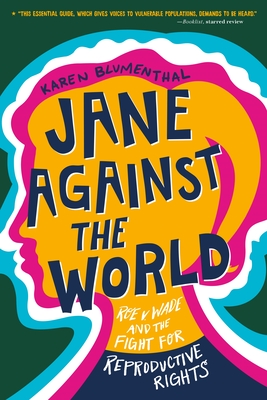 $13.99

Ships from warehouse to store in 3-6 business days
Description
---
A riveting look at the tumultuous history of abortion rights in the United States leading up to the landmark case of Roe v. Wade, by award-winning author and journalist Karen Blumenthal.

Tracing the path to the 19th century to the pivotal decision in Roe v. Wade and the continuing battle for women's rights, Blumenthal examines, in a straightforward tone, the root causes of the current debate around abortion and its repercussions that have rippled through generations of American women.

This urgent book is the perfect tool to facilitate discussion and awareness of a topic that affects each and every person in the United States.
About the Author
---
Karen Blumenthal (1959-2020) was a financial journalist and editor whose career included five years with The Dallas Morning News and twenty-five with The Wall Street Journal—where her work helped earn the paper a Pulitzer Prize for its breaking news coverage of the September 11, 2001 attacks—before becoming an award-winning children's non-fiction book writer.

Three of her books, Hillary Rodham Clinton: A Woman Living History, Steve Jobs: The Man Who Thought Different, and Bootleg: Murder, Moonshine, and the Lawless Years of Prohibition, were finalists for the YALSA Excellence in Nonfiction for Young Adults Award.

Karen was also the author of Six Days in October: The Stock Market Crash of 1929 (named a Sibert Honor Book), Let Me Play: The Story of Title IX (winner of the Jane Addams Children's Book Award), Tommy: The Gun That Changed America, Bonnie and Clyde: The Making of a Legend, and Jane Against the World: Roe v. Wade and the Fight for Reproductive Rights.
Praise For…
---
"Jane Against the World reads, at times, like a legal thriller. I kept reminding myself, "Wait, I know how this ends."...Blumenthal has done her job well: presenting the history, and leaving readers to wrestle with what the future may hold for families facing unwanted pregnancies."—The New York Times

A Rise: A Feminist Book Project for Ages 0-18 2022 Book List Selection

*"An account of the tumultuous struggle for abortion rights in the United States...Gripping reading; necessary for every library serving teens."—Kirkus Reviews, starred review

*"This essential guide, which gives voices to vulnerable populations, demands to be heard."—Booklist, starred review



" An excellent purchase for public and high school nonfiction collections."—School Library Journal

" Blumenthal's impeccable research is revealed in the extensive back matter (including documentation, a subject bibliography, a timeline, and a glossary) that completes this compelling book."—The Horn Book

"Written in clear, accessible language, as lively as it is thorough, the book presents the issue as far more nuanced and complex than the often sharply divided "pro-choice" and "pro-life" stances it is often boiled down to."—Publishers Weekly
Free Media Mail shipping on U.S. orders over $75