The Purpose Path: A Guide to Pursuing Your Authentic Life's Work (Paperback)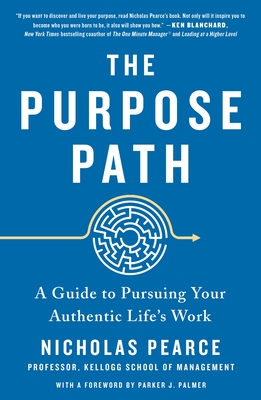 $20.00

Ships from warehouse to store in 3-6 business days
Description
---
Nicholas Pearce shows readers how to build a meaningful career with a moral center and a purpose in the world.

The Purpose Path is for people in any field and at any life stage who long to have not just a job or a career, but a true vocation that allows them to connect their soul with their role. The Purpose Path is organized around five key questions:

What is success?
Who am I?
Why am I here?
Am I running the right race?
Am I running the race well?

Nicholas Pearce sits at the unconventional intersection of business, faith, and academia. With engaging stories and candid advice, he shows how he and other people from various walks of life have asked and answered these five questions in order to start, shape, or even radically change their lives and careers. Inspiring, thought-provoking, and practical, The Purpose Path is an essential book for anyone who seeks the clarity and courage to advance their authentic life's work every day.
About the Author
---
A scholar, speaker, entrepreneur, and pastor, Nicholas Pearce is an award-winning management and organizations professor at Northwestern University's Kellogg School of Management, founder and CEO of The Vocati Group, a global executive advisory firm, and assistant pastor at Chicago's historic Apostolic Church of God. He has served as a trusted adviser, executive coach, and keynote speaker for leading corporations, communities of faith, and social impact organizations on six continents. He and his work have been featured in Bloomberg BusinessWeek, Christianity Today, Forbes, Fortune, Harvard Business Review, The New York Times, The Wall Street Journal, The Washington Post, and on ABC, CBS, CNN, NBC, and NPR. A native of Chicago's South Side, he lives in his hometown with his family.
Praise For…
---
"When you've found your life's purpose, work becomes meaningful to you. Suddenly you love what you do and your occupation doesn't feel like work anymore. In fact, when you're living and loving your true calling, you never have to work another day in your life! If you want to discover and live your purpose, read Nicholas Pearce's book. Not only will it inspire you to become who you were born to be—it also will show you how."
—Ken Blanchard, New York Times bestselling coauthor of The One Minute Manager® and Leading at a Higher Level

"Nicholas Pearce is one of his generation's brightest minds. With The Purpose Path, he has now written one of his generation's most significant books. If you want to figure out who you're meant to become, honor your calling, and activate your purpose every day, you won't want to put this book down!"
—Bishop Lambert W. Gates, Presiding Bishop, Pentecostal Churches of the Apostolic Faith

"Nicholas brings his powerful voice from the boardroom and pulpit onto the written page. He writes with conviction about what makes us truly human – our ability to ask why we exist and what work we are called to do. Through artful storytelling and logic, he ties our work to our being, in the process reminding us that each day's labor is indeed sacred."
—Sally Blount, Michael L. Nemmers Professor of Strategy and former Dean, Kellogg School of Management, Northwestern University

"Rarely is a book both timely and timeless. Every generation needs a clarifying call to purpose, and a map to get us there. For those who want to do more than exist, The Purpose Path is required reading."
—Dr. Charlie Dates, Senior Pastor, Progressive Baptist Church, Chicago and Affiliate Professor, Trinity Evangelical Divinity School

"For anyone who wants to discover why they were placed on this earth, and understand the difference between success and significance in your life, Professor Pearce's book is a must."
—Harry M. Jansen Kraemer, Jr., Professor of Leadership, Northwestern University Kellogg School of Management, former Chairman & CEO, Baxter International, Inc., and bestselling author of From Values to Action and Becoming the Best

"Nicholas Pearce's The Purpose Path provides a path to vocational courageousness. This book will be a helpful resource for those asking the fundamental questions of life, identity, meaning and purpose with the aim of thriving."
Ed Stetzer, Billy Graham Distinguished Chair, Wheaton College

"Every person's life and vocation matters, and we seek who we are made to be and what we are gifted to do. Step into Dr. Pearce's rich reflection and receive the assurance and hope that we need and will find."
—Mark Labberton, President, Fuller Theological Seminary

"Dr. Nicholas Pearce empowers us to wrestle with the essential questions that reveal our true self all the while inspiring us to act courageously as we pursue our authentic life's work. Applying the practical wisdom found is this book will align you with your purpose and draw you closer to your creator."
—Shundrawn A. Thomas, President, Northern Trust Asset Management, and author, Discover Joy in Work

"Filled with practical help and inspiration, this is the sort of book you will highlight often and pass along to your friends, kids, workmates, or any other person who seeks a life that is integrated, influential, and free."
—Dan Meyer, Senior Pastor, Christ Church of Oak Brook and Chairman, Fuller Seminary Board of Trustees
Free Media Mail shipping on U.S. orders over $50