The Girl Who Fell Beneath the Sea (Hardcover)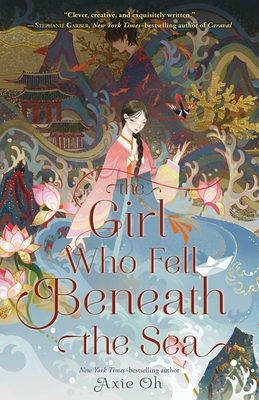 Description
---
A New York Times Bestseller!

Axie Oh's The Girl Who Fell Beneath the Sea is an enthralling feminist retelling of the classic Korean folktale "The Tale of Shim Cheong," perfect for fans of Wintersong, Uprooted, and Miyazaki's Spirited Away.

Deadly storms have ravaged Mina's homeland for generations. Floods sweep away entire villages, while bloody wars are waged over the few remaining resources. Her people believe the Sea God, once their protector, now curses them with death and despair. In an attempt to appease him, each year a beautiful maiden is thrown into the sea to serve as the Sea God's bride, in the hopes that one day the "true bride" will be chosen and end the suffering.

Many believe that Shim Cheong, the most beautiful girl in the village—and the beloved of Mina's older brother Joon—may be the legendary true bride. But on the night Cheong is to be sacrificed, Joon follows Cheong out to sea, even knowing that to interfere is a death sentence. To save her brother, Mina throws herself into the water in Cheong's stead.

Swept away to the Spirit Realm, a magical city of lesser gods and mythical beasts, Mina seeks out the Sea God, only to find him caught in an enchanted sleep. With the help of a mysterious young man named Shin—as well as a motley crew of demons, gods and spirits—Mina sets out to wake the Sea God and bring an end to the killer storms once and for all.

But she doesn't have much time: A human cannot live long in the land of the spirits. And there are those who would do anything to keep the Sea God from waking…

Praise for The Girl Who Fell Beneath the Sea:

An ABA Indie Bestseller

"On every page I found something marvelous and new, and I was eager to keep reading because I wanted to further explore this wondrous new world." —The New York Times

"A beautiful, mesmerizing retelling I wish I'd had when I was growing up. ... A heartfelt tale that I will be recommending for years to come." —Elizabeth Lim, New York Times-bestselling author of Six Crimson Cranes

"A clever, creative, and exquisitely written tale of sacrifice, love, and fate." —Stephanie Garber, New York Times-bestselling author of Caraval
About the Author
---
Axie Oh is a first-generation Korean American, born in New York City and raised in New Jersey. She studied Korean history and creative writing as an undergrad at the University of California San Diego and holds an MFA in Writing for Young People from Lesley University. Her passions include K-pop, anime, stationery supplies, and milk tea, and she currently resides in Las Vegas, Nevada, with her dog, Toro (named after Totoro). She is the author of multiple books for teens, including The Girl Who Fell Beneath the Sea.
Praise For…
---
Praise for The Girl Who Fell Beneath the Sea:

A New York Times Bestseller
An ABA Indie Bestseller
A Publishers Weekly Bestseller
An NPR Best Book of 2022
An Indigo Best YA Book of 2022
A New York Public Library Best Book of 2022
A Buzzfeed Best YA Book of 2022
A YALSA Best YA of 2022 Top 10 Selection
A 2023 ALA Rise List Selection
A 2023 Garden State Teen Book Award nominee
A Bank Street Best Children's Book of the Year, with Outstanding Merit

"An empowering fantasy story about defining your own fate. ... Upon seeing the Sea God's city, Mina thinks, 'I've never seen anything more beautiful. I've never seen anything more terrifying.' I had the same thought while reading. On every page I found something marvelous and new, and I was eager to keep reading because I wanted to further explore this wondrous new world." —The New York Times

"Deliciously lovely ... An exciting and romantic fantasy that I loved with my whole heart. My biggest complaint is that I wish it had been longer, which isn't really a complaint at all." —NPR

"A true jewel of a story that shines in the world of fantasy. Axie Oh effortlessly brings legends to life in the pages of this lush, powerful retelling of the Korean folktale of Shim Cheong that will sweep readers off their feet and transport them to an unforgettable, whimsical world filled with characters they'll be yearning to revisit for years to come. This beautifully woven tale brimming with heart, spirit, and love is a dream you'll never want to end." —Janella Angeles, bestselling author of Where Dreams Descend

"Lyrical prose, incredible world building, and a heroine worth rooting for—this story is everything and then some. A stunning feat of storytelling and an un-put-downable read. ... Absolutely exquisite!" —Kalynn Bayron, bestselling author of Cinderella Is Dead and This Poison Heart

"Get ready to be swept into a world of gods, spirits, surprising twists, and mingled destinies. The Girl Who Fell Beneath the Sea is a breathtaking cinematic fairy tale with a courageous heroine at its heart." —Traci Chee, New York Times-bestselling author of The Reader and We Are Not Free

"A clever, creative, and exquisitely written tale of sacrifice, love, and fate. The Girl Who Fell Beneath the Sea is one part breathless adventure, one part fantasy romance, and entirely enchanting." —Stephanie Garber, New York Times-bestselling author of Caraval

"A tale brimming with love. The Girl Who Fell Beneath the Sea will whisk you away on an entrancing journey through the most magical realm. Axie Oh's characters own my whole heart." —Chloe Gong, New York Times-bestselling author of These Violent Delights

"A beautiful, mesmerizing retelling I wish I'd had when I was growing up. Axie Oh seamlessly weaves Korean mythology with her own voice, and gifts the reader with a heartfelt tale that I will be recommending for years to come." —Elizabeth Lim, New York Times-bestselling author of Six Crimson Cranes

"Based on a classic Korean folktale, this enchanting novel brings a realm of gods, spirits, demons and dragons to rich life. ... A journey of both heart and spirit. With its captivating world-building, fast-paced story and cast of memorable characters, The Girl Who Fell Beneath the Sea will charm, delight and surprise readers." —Juliet Marillier, award-winning author of the Warrior Bards series

"A sumptuous fairytale world to dive into full of whimsy and heart. Perfect for fans of Studio Ghibli!" —Natasha Ngan, New York Times-bestselling author of Girls of Paper and Fire

"This brilliant retelling of Korea's most famous legend preserves the beloved classic while empowering Shim Cheong for a modern audience. Oh's fantastical world is unique and absolutely mesmerizing. I adored absolutely everything about it!" —Ellen Oh, editor and co-author of A Thousand Beginnings and Endings

"A wondrous, richly imagined tale of love, family, and sacrifice. Axie Oh's lyrical prose sweeps you into an extraordinary world of myth and legend, where gods of lore live and breathe, and one girl's determination to change her fate will capture your heart. Fans of Studio Ghibli will adore this magical story!" —June CL Tan, author of Jade Fire Gold

"The Girl Who Fell Beneath the Sea captivated me with its depiction of a spirit realm rooted in Korean myth and moved me with the power of love and family in its story. A beautiful new favorite of mine!" —Xiran Jay Zhao, New York Times-bestselling author of Iron Widow

"[A] majestic magical marvel of a book." —Buzzfeed

"Nicely paced and beautifully written, this engrossing fantasy is packed with memorable characters, starting with the headstrong Mina, and including the mysterious Shin, with whom she becomes inexplicably tied. ... A perfect for fit readers who love Spirited Away." —Booklist

"The novel boasts a plucky heroine, heart-tugging family relationships, and a fraying, compellingly fraught relationship between gods and the mortal world. ... The draw here for most readers will be the fascinatingly detailed spirit world and Oh's riffs on the Shim Cheong legend; fans of supernatural K-dramas and Lim's Six Crimson Cranes will eat it up." —The Bulletin

"Oh weaves an intricate and engaging tale. ... Captivated readers will long to be pulled deeper into the story. A fantastical world to get lost in." —Kirkus Reviews

"An atmospheric folklore interpretation that's sure to satisfy fans of historical K-dramas such as Moon Lovers." —Publishers Weekly

"Beautifully written, heartfelt, and lovely imagery. I smiled, I cried, I smiled through my tears. It felt like a timeless classic right off the bat." —Forever Young Adult

Praise for Rebel Seoul:

"Brilliantly crafted ... Equal parts K-drama and sci-fi blockbuster, Oh blends futuristic tech, authentic Korean culture, and romance in this complex, utterly engrossing, and wholly fresh story." —Booklist, starred review

"This action-packed sci-fi novel, with deeper explorations of empathy, humanity, and the capacity to love, is a great choice." —School Library Journal, starred review

"Moody, explodey fun." —The New York Times Book Review
We will be closing at 8pm on Friday, 9/22 due to severe weather.
Free Media Mail shipping on U.S. orders over $75