The Invisible Life of Addie LaRue (CD-Audio)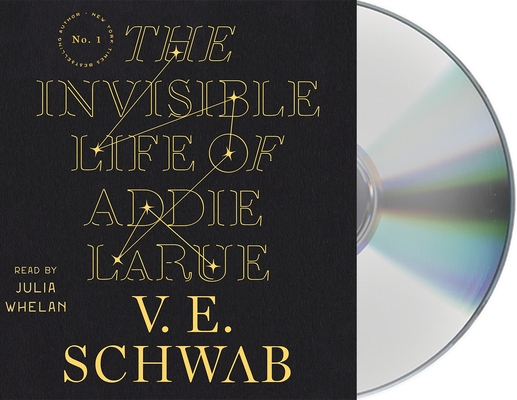 Staff Reviews
---
Adeline LaRue wants nothing more than to escape her tiny village and experience the world, and finds a way out—by trading her soul to the devil. Their deal comes with caveats, naturally — Addie can no longer make a mark on the world, even as she lives eternally. Every person forgets her as soon as they part, she cannot be in photographs, she cannot write or paint or be loved. The only one who remembers her is the devil himself, who occasionally visits to coax her into finally accepting death. Until she meets exactly the right person.
Addie takes us through her centuries of life, how she learns to keep living, and wants to keep living, despite it all. It is a beautiful reflection on what life can give us, while at the same time acknowledging the importance of our mortality. Even our deepest wishes could become a curse if granted.  
— Amber
October 2020 Indie Next List
---
"Epic, beautifully written, heartwarming, and heartbreaking, The Invisible Life of Addie LaRue is a contemplation on life, death, what it means to make your mark on the world, and why we feel it's important to do so. Addie makes a deal with a demon so she can live her life the way she wants to. But, like most deals, there are strings attached — and these strings make it so she is forgotten by everyone she meets. Dancing about time, the book shows Addie's life over 300 years and takes a closer look at her modern life — after a boy in a bookshop remembers her. Months later, I'm still thinking about this book and how beautiful it is; my words don't even come close to doing it justice. Read this book."
— Lindsey Pattavina, R.J. Julia Booksellers, Madison, CT
Description
---
"[Narrator Julia] Whelan's performance is unforgettable in this darkly romantic fantasy about one young woman cursed always to be forgotten...Her depiction of the darkness is smooth with a low cadence, capturing listeners' attention and their heart strings." -- Booklist

In the vein of The Time Traveler's Wife and Life After Life, The Invisible Life of Addie LaRue is New York Times bestselling author V. E. Schwab's genre-defying tour de force.

A Life No One Will Remember. A Story You Will Never Forget.

France, 1714: in a moment of desperation, a young woman makes a Faustian bargain to live forever—and is cursed to be forgotten by everyone she meets.

Thus begins the extraordinary life of Addie LaRue, and a dazzling adventure that will play out across centuries and continents, across history and art, as a young woman learns how far she will go to leave her mark on the world.

But everything changes when, after nearly 300 years, Addie stumbles across a young man in a hidden bookstore and he remembers her name.

NEW YORK TIMES BESTSELLER
USA TODAY BESTSELLER
NATIONAL INDIE BESTSELLER
THE WASHINGTON POST BESTSELLER

A Macmillan Audio production from Tor Books

"This epic story, spanning three centuries and two continents, is expertly narrated by Julia Whelan...This is a transporting listen, and these characters will stick with you for a long time." -- Bookpage, starred review

"Julia Whelan's steady rhythm perfectly conveys the ups and downs of Addie LaRue's life, which take place over 300 years...Her voice fits each moment, making Addie's journey both sobering at times and unforgettable." -- AudioFile Magazine
About the Author
---
VICTORIA "V.E." SCHWAB is the #1 New York Times bestselling author of more than a dozen books, including the acclaimed novel The Invisible Life of Addie LaRue, the Shades of Magic series, Villains series, This Savage Song, and Our Dark Duet. Her work has received critical acclaim, been featured in the New York Times, Entertainment Weekly, Washington Post and more, translated into more than a dozen languages, and has been optioned for television and film. When she's not haunting Paris streets or trudging up English hillsides, she lives in Edinburgh, Scotland and is usually tucked in the corner of a coffee shop, dreaming up monsters.
Praise For…
---
Praise for the Shades of Magic series:

"Addictive and immersive, this series is a must-read." —Entertainment Weekly, Grade A, on A Gathering of Shadows

"A gem of a tale.... This is a book to treasure." —Deborah Harkness on A Darker Shade of Magic

"Compulsively readable.... With so many worlds on the map, there's plenty left to discover."—NPR on A Darker Shade of Magic

"Feels like a priceless object, brought from another, better world of fantasy books." —io9 on A Darker Shade of Magic